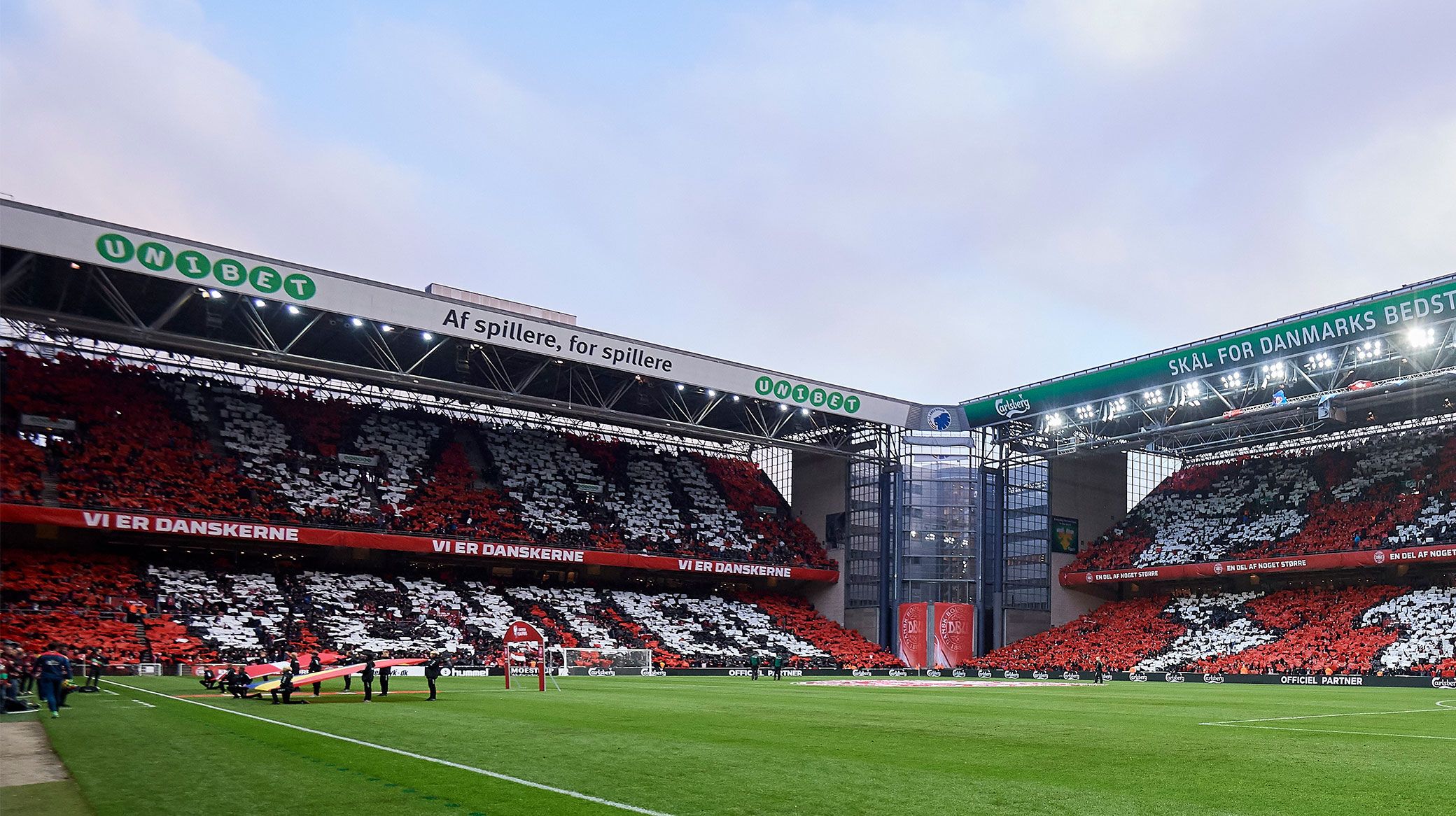 Lars Rønbøg, Getty Images
Telia Parken to host England, Belgium and Iceland in Nations League
01/07 2020 17:40
F.C. Copenhagen's stadium Telia Parken will play host to Denmark's three UEFA Nations League matches this autumn.
Denmark will face England, Belgium and Iceland across six games in the Nations League A Group 2.
The games will be played over September, October and November 2020.
The national side earned promotion to the top tier of the competition and now have the chance to compete in the Nations League Finals.
Denmark's three home matches fall in September (2) and November (1). The side will once again play at the national stadium and head coach Kasper Hjulmand is looking forward to the fixtures.
International football back in Telia Parken
"It will be great to get started and we are all really looking forward to it," he said.
"It will be great to lead the team out when we meet Belgium, and having to play in the Telia Park is one of the things I have been really looking forward to.
"Of course, we also hope that we can play the games with fans in the terraces, because it means a lot to have a great atmosphere and support when the national team plays."
Belgium, England and Iceland fixture dates
Denmark's Nations League campaign opens with two home games in Telia Parken. On Saturday, 5 September the side face Belgium, while England will be guests three days later on Tuesday, 8 September. The match against Iceland will be played on Sunday, 15 November. All three matches are scheduled for a 20:45 kick off.
Parken Sports & Entertainment Director Lars Bo Jeppesen is also looking forward to three big matches in FCK's home stadium.
"It is always a big thing to have the Danish national team play matches in Telia Parken," he said. "There is a great tradition behind us, because for more than 100 years the national team has had their base here in Copenhagen for matches.
"We are looking forward to the big games awaiting in the UEFA Nations League, and of course we all hope that there will be many spectators in the stands."
Kjær on Danish success
Denmark's men's team secured promotion to the top tier of the Nations League by winning the group consisting of Ireland and Wales in the autumn of 2018, and the team's captain Simon Kjær is looking forward to playing international matches again.
"It is always something very special to play international matches in Telia Parken, and we are all looking forward to pulling in the red-and-white jersey again after the long international break," he said.
"We - and the previous generations of national team players - have had many great moments in Telia Parken together with out supporters, so we hope the conditions are such that we can get Danish fans into the stadium. Their support always means a lot to us."
World Cup qualification
In addition to the honour of competing for the trophy, the Nations League also offers for a place for countries seeking to qualify for the 2022 World Cup. The two best group winners who do not qualify for the World Cup final round through the normal World Cup qualification will be given a place in the playoff round, where a total of 12 countries will fight for a total of three places at the World Cup in 2022. In total there are 13 places for European national teams.
It is not yet clear what guidelines will be given to admitting spectators into the stadium for matches, which also means that ticket sales have not yet started. When news of the spectator situation for international matches is available it will be found on dbu.dk, just as ticket information will also appear on dbu.dk.
In addition to the UEFA Nations League matches, the men's national team will also play two friendlies this autumn. Where and when the games will be held is yet to be decided, as are the opponents.