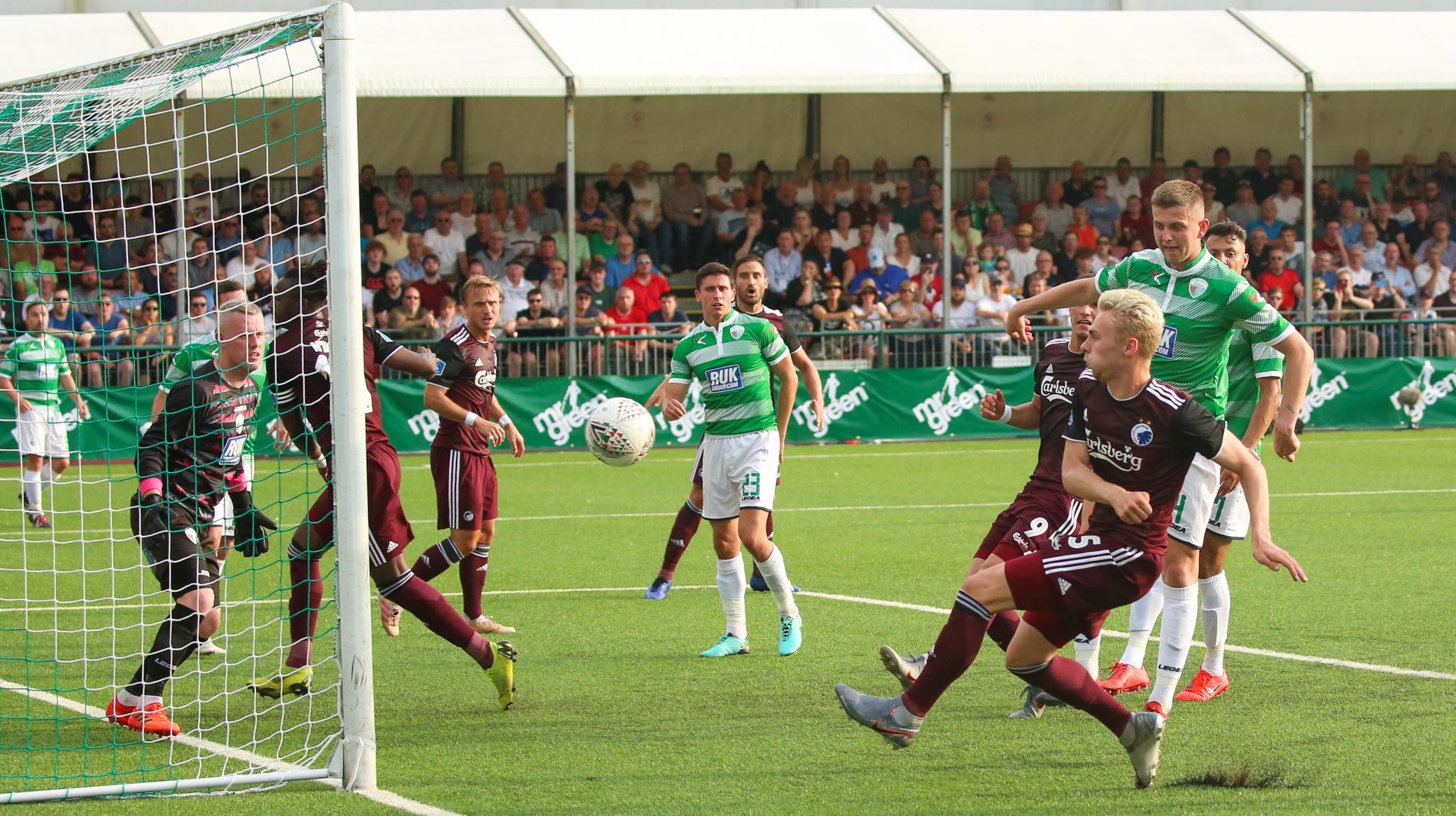 FCK.DK
Ståle reacts to 2-0 win at The New Saints
23/07 2019 23:18
FC Copenhagen manager Ståle Solbakken admits the plastic pitch affected his side in the 2-0 UEFA Champions League second qualifying round first leg win over The New Saints on Tuesday.
FCK secured victory thanks to goals from Pieros Sotiriou and Robert Skov.
And the boss was happy with the overall result, even if the performance was lacking in some key areas.
"I think we moved the ball well, the passing was good, "Ståle said after the game.
"But the dribbling was more difficult because the ball runs away from you and also stops a little bit. So that was the big challenge on a pitch like this. The passing was good but the one-vs-ones was a big problem."
The Lions started brightly and got the opening 18 minutes in through Sotiriou's tap-in after neat work on the right hand side.
"It was like we expected against a very well organised side who had 10 men behind the ball," added Ståle.
"When we didn't pressurise well they played good football, and when we made stupid mistakes they countered fast. They're a team that can cause teams problems so we are quite happy we got a goal in each half.
"The surface was quite slow and maybe because of the very hot weather it was even slower."
Robert Skov buried a penalty in the second half after Sotiriou was fouled in the area. The incident occurred after Sotiriou had shot for goal and forced the striker off the field.
And Ståle was adamant the referee was right to give the penalty.
>> How to buy FC Copenhagen tickets
"I think it was a penalty because I see Pieros fired a shot but it's a very hard tackle on the ankle," he said.
"The player had to go off and he really hit him hard. It's a crystal clear penalty but it's also good judgement from the referee because sometimes you let them shoot and don't see the tackle afterwards."
Dame N'Doye captained the FC Copenhagen team and was delighted with the first-leg win.
"We came here for the victory and we got it. So we're OK," he said.
"It was a bad pitch. I'm sorry to say but it was a terrible pitch - but we managed to do what we had to do."
Next up for FC Copenhagen is a trip to Horsens in the 3F Superliga on Saturday.
The Lions then host TNS in the second leg in Telia Parken on Wednesday, July 31.
Tickets are still available for the game and can be bought today.