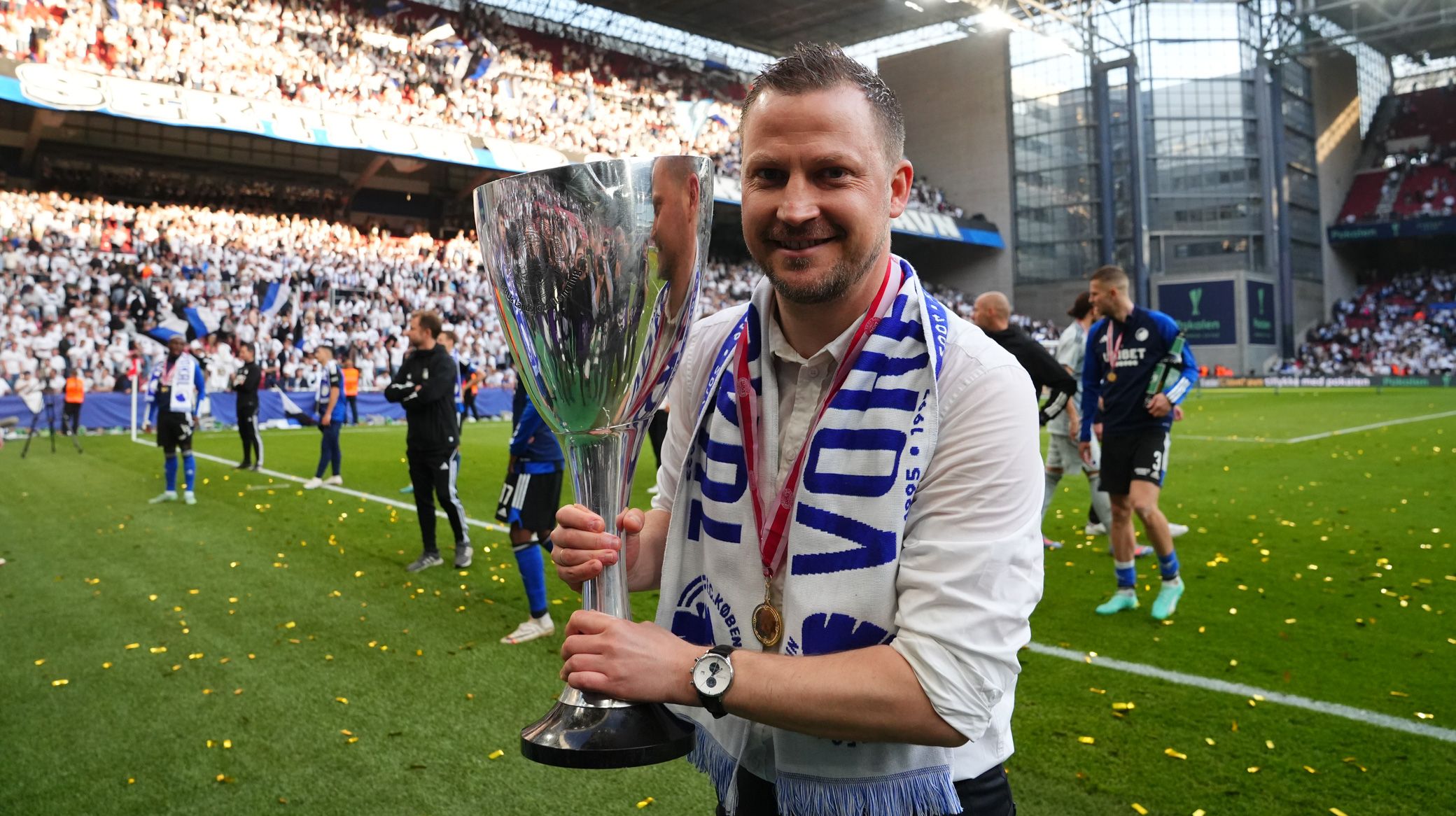 Lars Rønbøg, Getty Images
Neestrup: Cup triumph gives us the boost we need for the league
18/05 2023 20:46
F.C. Copenhagen head coach Jacob Neestrup says winning the Danish Cup gives his players the extra impetus to do the double this season, with three Danish Superliga games remaining.
Diogo Gonçalves' second-half goal was enough to split the teams as FCK beat AaB in the Cup final in Parken on Thursday.
Attention swiftly turns to Sunday's clash with AGF, before two final matches against Viborg and Randers round off the season.
The Lions sit a point ahead of FC Nordsjælland in the Superliga and Neestrup wants to maintain that lead.
"[The Cup win] gives us a huge boost before our final three important games in the Superliga," says Neestrup.
"I am happy and relieved, because they say that the first is often the hardest. So I am incredibly happy on behalf of the players, on behalf of the club and on behalf of the fans.
"I have said right from day one as head coach that our aim was to win the title and the cup this season, and that I believed we had the resources to do it.
"We've managed to cup, even though we were again hit by injuries before and during the match. Lukas (Lerager) had a calf injury in the derby and it turned out during the warm-up that he couldn't play here. (Rasmus) Falk twisted his ankle the other day in an accident on his own in training. We thought he could last, but he also had to leave part-way through.
"But the others were ready to step up, and we really had to fight and fight for every ball out there. We did that today, and that should also carry us through our last few games.
"That's why there won't be any big celebration either. I have told the players to enjoy the win tonight and tomorrow, but no alcohol or partying. Now we celebrate together and enjoy ourselves, and then we go home and sleep, and that has been the plan all along, regardless of the result today.
"The game was a very close contest with two compact defensive units, and we had a hard time closing them down. It was about not exposing ourselves, and it worked out well.
"And I am very happy on Diogo's behalf that he became the match winner – and in that way too. It's goals like this that I showed on a video to the board before we bought him… and few people probably know that he has been playing in great pain for a long time since he turned his foot earlier in the spring. It is only now that he is fully ready again.
"But it was a strong collective performance by the entire squad that carried us through today."