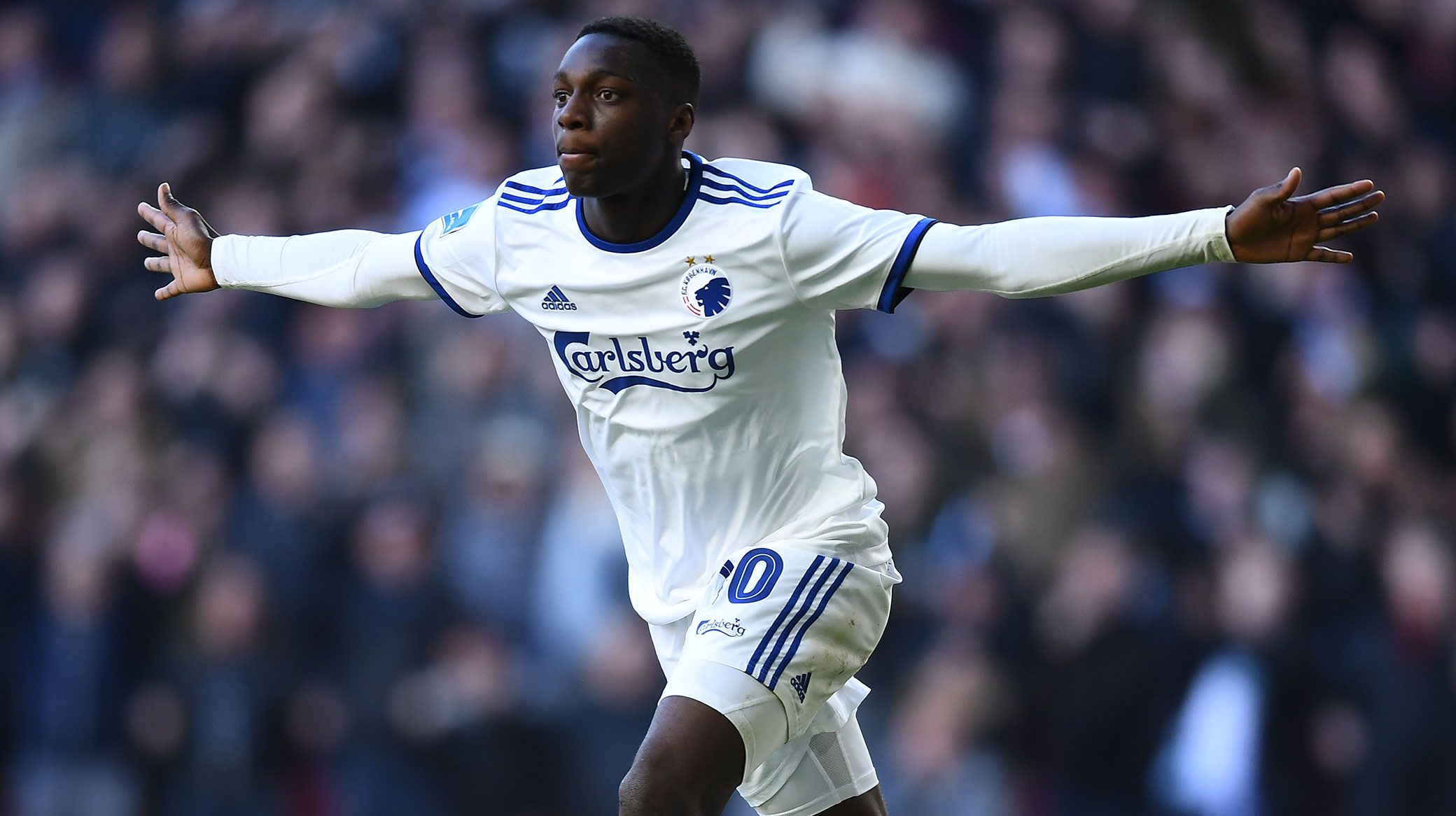 Lars Rønbøg, Getty Images
Mohamed Daramy extends FC Copenhagen contract
03/04 2019 15:00
FC Copenhagen have extended the contract of 17-year-old Mohamed Daramy to the end of 2021.
Daramy will also move into the FCK first team with immediate effect.
 
Daramy comes from FC Copenhagen's talent department, which he joined from Hvidovre in 2015.
He earned his first-team debut for FCK in the cup match against Viby in September, where he also became our youngest goal scorer at the age of 16 and 263 days.
 
Since then, Daramy has played seven matches for the first team. On Sunday he scored his first Superliga goal in the 1-0 win over Esbjerg in Telia Parken.
 
Intense competition from major foreign clubs
"There has been very intense competition from some large foreign clubs, and this has meant that the process of making an appointment has been complicated, so we are very pleased that it has now succeeded," says FCK manager Ståle Solbakken.
>> Buy FC Copenhagen tickets
 
"Mohamed is undoubtedly a great talent, which we have already seen in glimpses, and we believe that we can unravel his great potential even more in the coming years. Therefore, it is important that we now have this agreement in place, so he should not speculate more about his future.
 
Extraordinary talent with areas to be improved
"Even though Mohamed has an extraordinary talent with great speed, strong one-on-one ability and a good eye, he still has plenty of areas to improve. The match on Sunday was a good example where he became a match winner and had good actions, but where we also see that there is a lot of work ahead of him before he hits the top. We look forward to working hard and focusing on developing him even more now."
 
Daramy has been part of the first team for all matches in the spring and been in the starting lineup in two Superliga games. Now he looks forward to working for more playing time:
 
A dream come true
"It is a dream come true for me that I am now part of FCK's Superliga team," Daramy said.
"That's what I've trained and worked for during my time in the club, so I'm really happy.
 
"I am absolutely sure that FCK is the right place for me to develop, and I have my family and friends around me in Copenhagen.
"Everyone has taken a really good look at me, and the coaches have shown great confidence in me and really given me the chance. All the players help me every day to get better, and I'm fully aware that I have a lot of work ahead of me.
 
"Now I'm just looking forward to everything falling into place and training to get better and deserve even more playing time."


 
Great praise for everyone in the talent department
Ståle also insists Daramy's arrival in the FCK first team is a testament to the talent department.
"We believe a lot in Mohamed, and there must be a great praise for everyone in the talent department who has again brought through a great talent. It is important for us as a club that we succeeded in this work," Ståle said.
 
"I have to tip my hat to the talent department's work. We would rather have the young players come through to our first team, as with Mohamed, Jonas Wind, Carlo Holse and Mads Roerslev, but when we sell great talents - which we have done in recent years - it also allows us to reinvest in even better talent work and development.
 
"It shows that we have made some real decisions about the investment in the talent department and that we are an attractive club for the greatest talents to be in."
 
Mohamed Daramy
Born: January 7, 2002
Nationality: Sierra Leone
Position: Attacker / Winger
Shirt number: 40