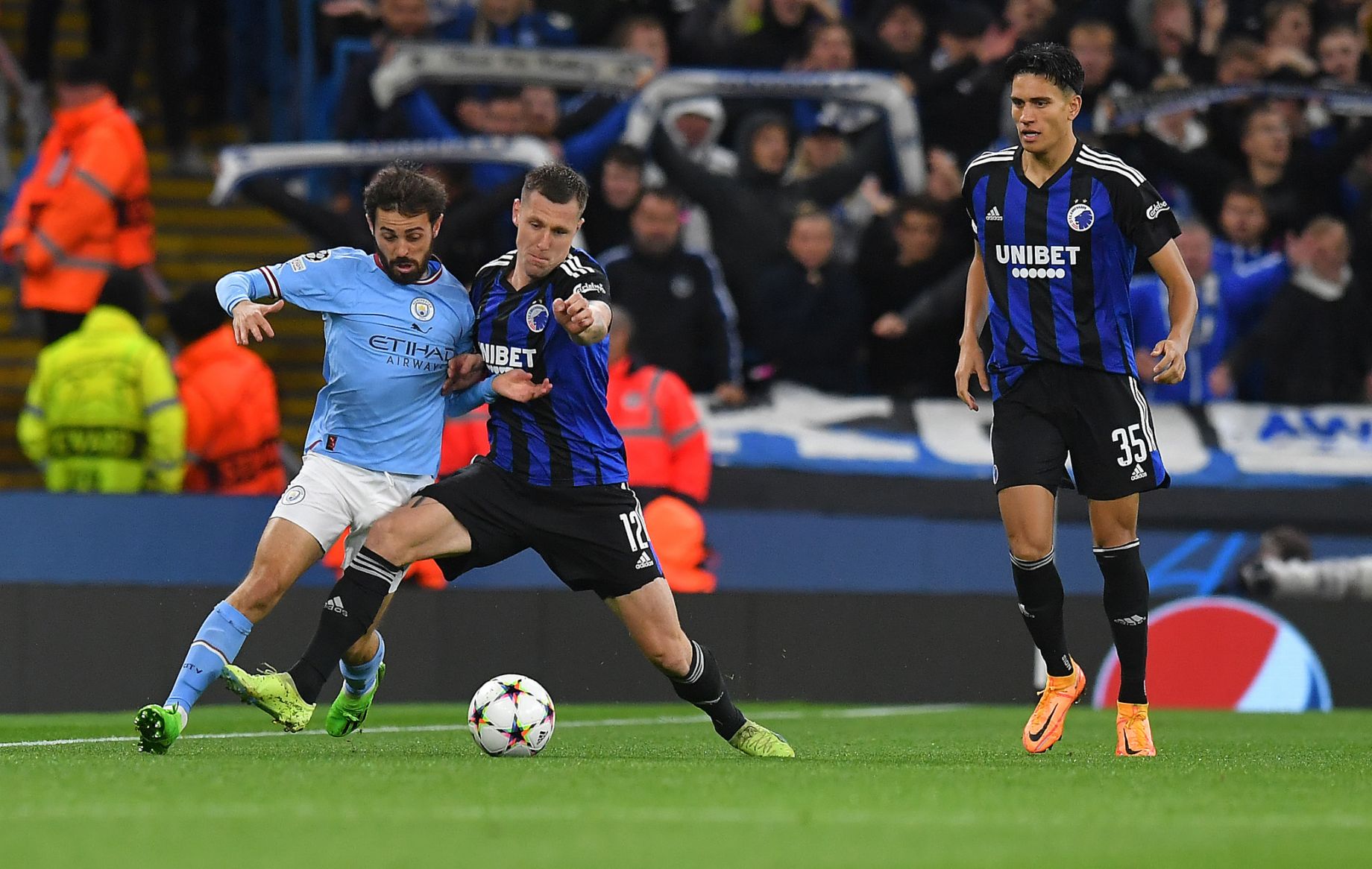 Dave Howarth, CameraSport via Getty Images
Lessons learned in Manchester – Stamenic
06/10 2022 01:05
Marko Stamenic says F.C. Copenhagen can take heart from their efforts in the defeat to Manchester City in the UEFA Champions League on Wednesday, and begin to refocus on the Danish Superliga campaign – starting with Saturday's clash with FC Nordsjælland.
The Lions lost 5-0 at the City of Manchester Stadium, having beaten AGF at the weekend in head coach Jacob Neestrup's first game in charge
Stamenic played in the heart of midfield in Manchester and enjoyed a typically combative performance. And the 20-year-old says the game will help him and the team in the future, despite the loss.
"The experience we've taken from the team we just played against, arguably the best team in the world, has given us a lot of good things to learn from," says the New Zealander.
"I'm young and it's good that I'm experiencing this stuff now, and learning from them quick. Hopefully I can adapt better and build on my game, and help the team in the future – looking first at FC Nordsjælland at the weekend."
Looking ahead to Saturday's clash in Parken, Stamenic adds: "I think we can definitely use that game as something to build on for the league. We are very ambitious in the Superliga to win back the championship, and this is another step to prove that this weekend against Nordsjælland."
'We'll do better next week'
Stamenic played the full 90 minutes in midfield for FCK on Wednesday, with the team short of both Carlos Zeca and Rasmus Falk due to injury.
Discussing his performance, he says: "I tried my best out there. For the majority of the game you're running hard and trying to get the ball off them, and it's very difficult.
"In those moments you are tired and you have to stay disciplined – because the moment you do win the ball you have to attack quickly against teams like Manchester City. You learn how to work with these players, how to adapt to games in these scenarios, and hopefully we'll do better next week."
Message to the fans
Stamenic also had a message to the 1,000 or so FCK supporters who made the trip to Manchester for the tie.
"I'd just like to add a big thank you to the FCK fans," he said. "We feel that support as players, and we love it so much. We can't thank you enough!"