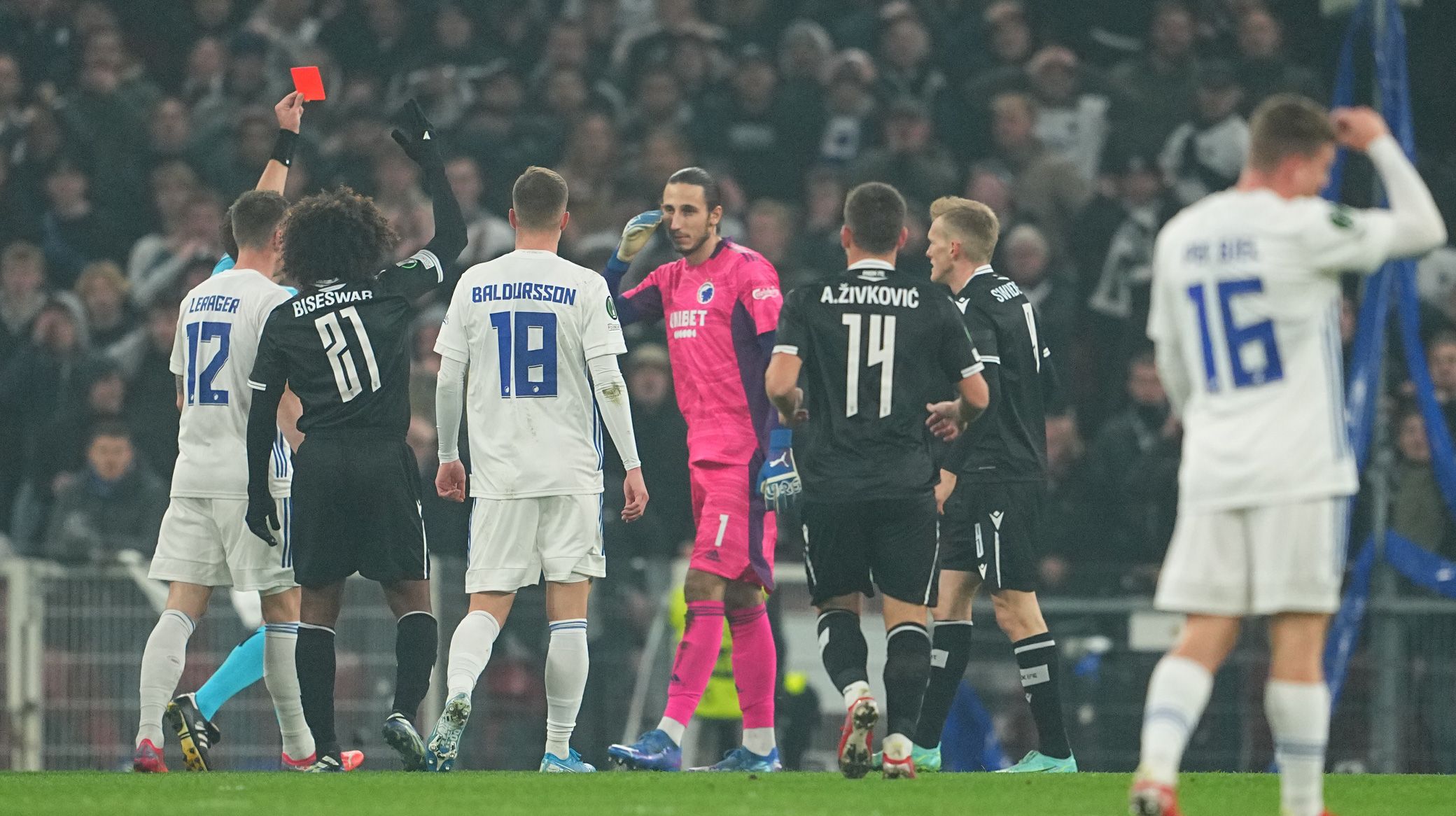 Lars Rønbøg, Getty Images
Grabara: Sorry for the boys
22/10 2021 09:57
F.C. Copenhagen goalkeeper Kamil Grabara admits he felt sorry for his teammates after being shown a red card early in Thursday's UEFA Europa Conference League defeat to PAOK.
Grabara was sent off for handling the ball outside the box just nine minutes into the 2-1 defeat in Parken.
Speaking after the game, he said: "Of course it's important when there's a red card so early. I don't really know where the ball hit me, but I'm sure the ref got it right.
"I don't feel sorry for myself, but I feel sorry for the boys, who had to play 80 minutes with 10 men. Of course it was not what we had hoped for, and not at all in this crazy atmosphere that the fans created, but I am proud of the way the boys fought and that we didn't lose heavily. In fact, we were close to getting a draw in the end."
FCK captain for the evening Nicolai Boilesen conceded that going down to 10 men early on made for a challenging evening in Parken.
"It was a tough fight, but we also made it hard for ourselves by going a man down so early," he said. "That's what happens, but it's annoying that we gave away two easy goals.
"When we got out of their initial pressure, we could easily play with them, but it's hard when we make such big mistakes.
"After the break we came out and tried, and it went much better - and we were also close to making it 2-2.
"We are of course worse off in the group now but we know we can compete with them even when a man down, so if we can keep every man on the field in Greece, we'll win down there."
Fellow defender Kevin Diks added: "It was difficult with the red card, but we should still have been more patient and made fewer mistakes. We didn't need to fall two goals behind before half time.
"However, we showed great character after the break and fought well to the last, but now the group is, of course, completely open again."
Up front Jonas Wind was tasked with chasing play and reflected on a challenging evening all round.
"We got off to a good start until the red card," said Wind. "We also had good periods with the ball, but at times we were probably also too naive in our game.
"As a striker, it's not fun being alone up front when you are outnumbered, but those were the working conditions today and I was just trying to do the best I could for the team."