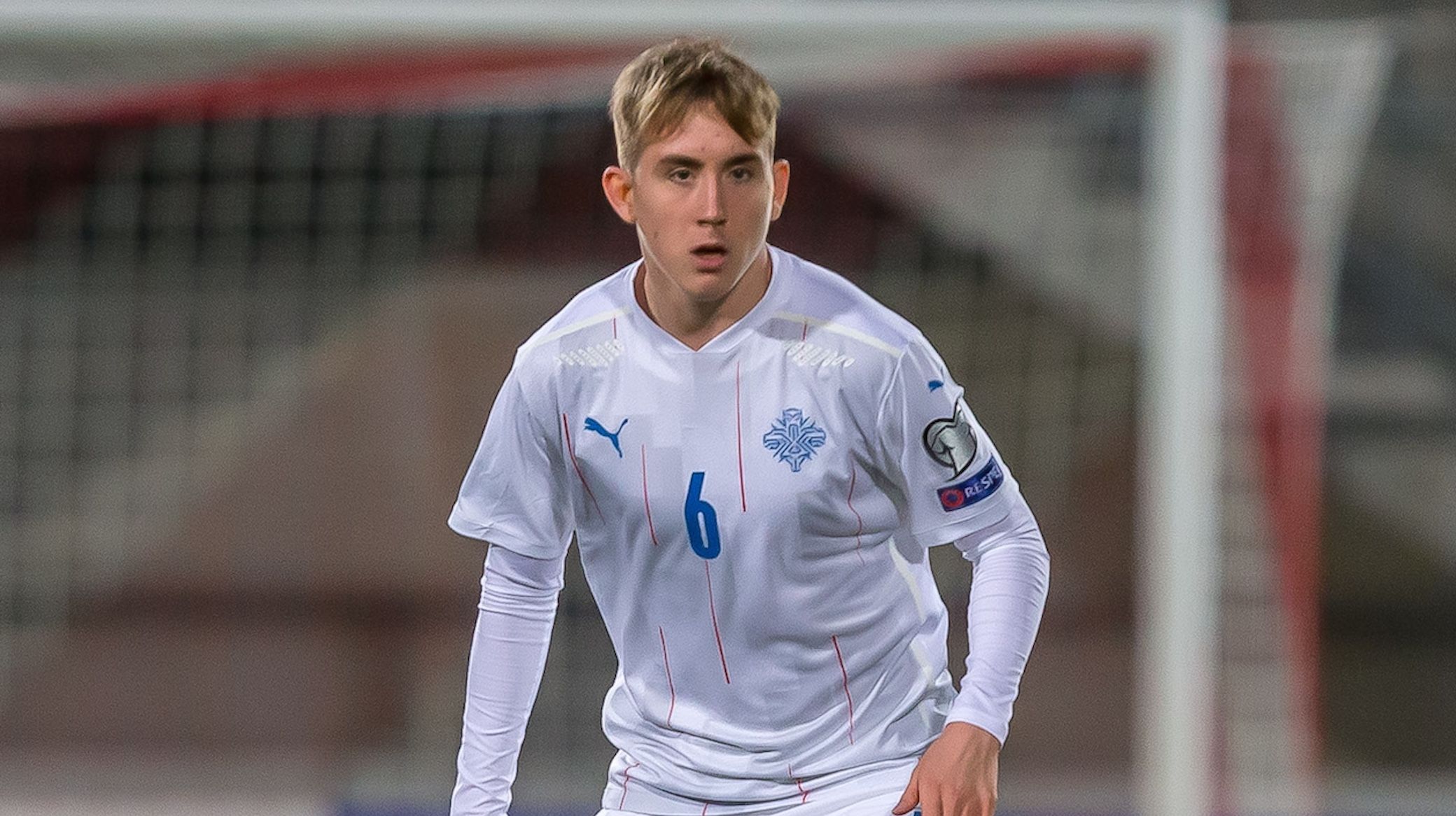 Ísak Bergmann Jóhannesson i aktion for det islandske landshold.
Getty Images
FCK sign starlet Ísak Bergmann Jóhannesson
31/08 2021 22:44
F.C. Copenhagen have signed Icelandic talent Ísak Bergmann Jóhannesson from IFK Norrköping on a deal until the summer of 2026.
Jóhannesson, 18, is an Iceland international and offensive midfielder who can play on both flanks and centrally. He has played 50 matches for IFK Norrköping, scored six goals and provided 16 assists, while he currently boasts four caps for Iceland.
In the spotlight of big clubs
"Isak is an unusually big talent and has been in the spotlight at some of Europe's biggest clubs, so we see a good match between him and F.C. Copenhagen," says FCK sporting director Peter Christiansen.
"He has progressed far in his development, while his potential is still great, and Jess (Thorup) and the rest of the staff will now see that.
"He is technically at a very high level with good one-on-one skills and has an incredibly strong passing game. At the same time, I would like to highlight his hard work and seriousness about his own development.
"He works hard for the team and his choice of FCK as the next step of his career testifies that he has prioritised the opportunity to develop as a player, because we believe we are the right place for him. Now he has to enter our environment and fortunately we have a good group of coaches and players to welcome him, including a number of compatriots who always make it easier."
A perfect match
Jóhannesson is currently with the Icelandic national team preparing for September's World Cup qualifiers but is looking forward to coming to Copenhagen next week.
"I see F.C. Copenhagen as a perfect match for me. It is an international football club and at the same time a club where I get the opportunity to take the next steps in my development in a sensible way," he says.
"I know the club really well and know from the other Icelanders in the club that it is a strong team and culture, where high demands are made every single day, but where there are also good relations between the players and the staff.
"It will be a big challenge for me, but I am really looking forward to getting started. I am sure that I will fit in well at the club quickly, and it's all about working hard for the team."
Not a new Daramy
For head coach Jess Thorup, the arrival of the young Icelander is a new offensive option following the sale of Mohamed Daramy. However, he was keen to stress that Jóhannesson is not a like-for-like replacement.
"We have always known that we wouldn't be getting a new Daramy, but in Ísak we get a great talent with some other qualities, which I see a good match with compared to the other types (of players) we have on the team," said Thorup.
"He's a very exciting player who already has plenty of experience despite his age, and he's going to contribute to the team with his abilities, I'm sure. We look forward to having him on board."
Ísak Bergmann Jóhannesson
Born: 23 March 2003
Position: Attacking midfielder
Previous clubs: IFK Norrköping and ÍA Akranes
International appearances: 4 caps for Iceland