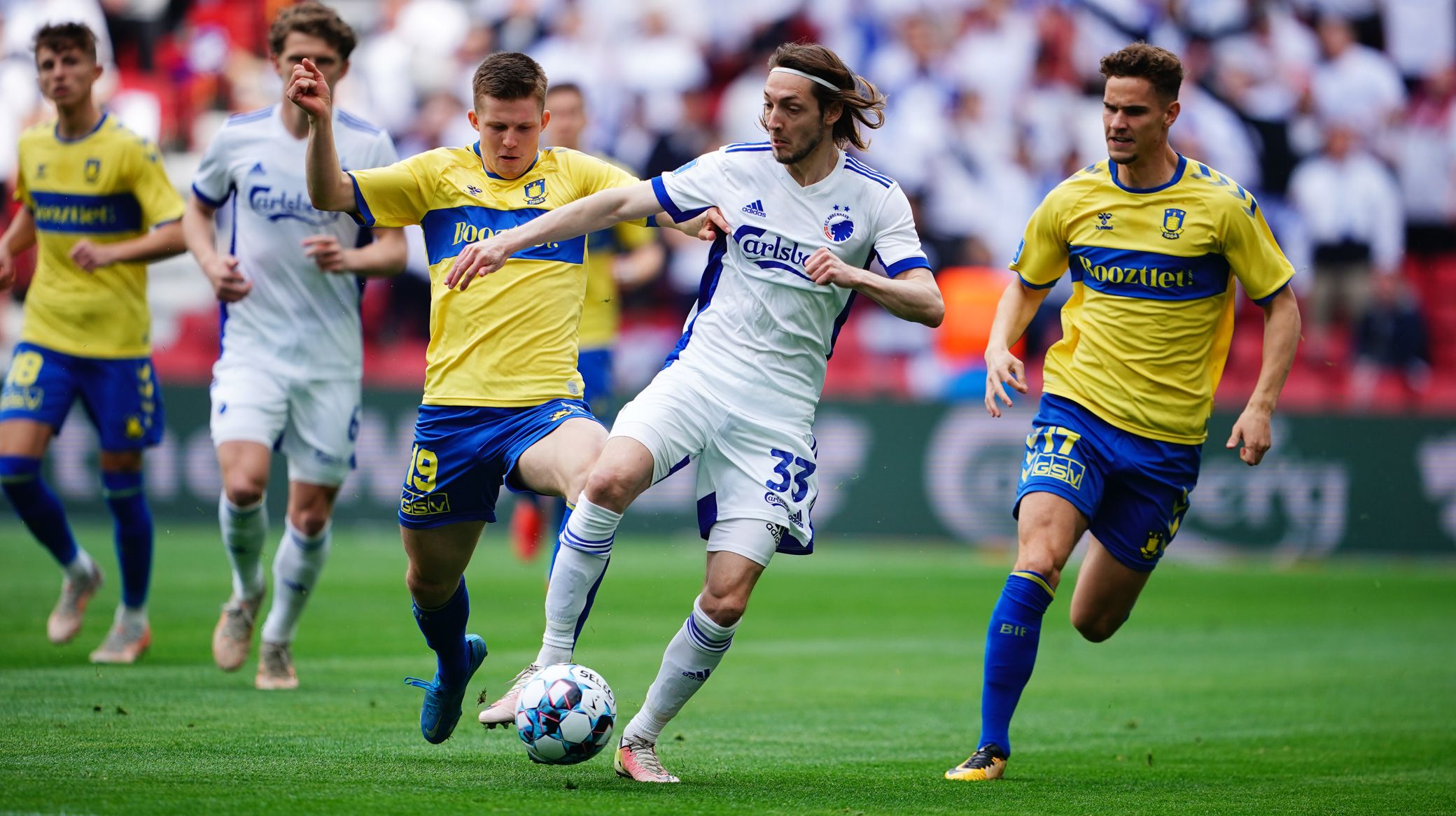 Lars Rønbøg, Getty Images
FCK players react to derby victory
16/05 2021 19:22
Jonas Wind's second-half penalty earned F.C. Copenhagen a 2-1 victory in Sunday's derby against Brøndby and kept alive the Lions' hopes of winning the Danish title this season.
With just two games remaining FCK sit five points behind first-placed FC Midtjylland, with BIF themselves two points behind the leaders.
After the game FCK.dk caught up with the players following the result, which was secured in front of almost 11,000 socially-distanced supporters inside Parken Stadium.
Mathias Zanka
"There's one game a year that means a lot, especially in a season where we've been poor many times. So it was important, that we had our fans back in the stands, to give them a win and give them a convincing win. We know what a victory like today means, because a derby win means a lot to our fans.
"There was a lot that worked today, it was a great pitch, we were able to play a good game of football and we won our duels - and all of a sudden we looked like a good team! We try to improve in every single match but we have fooled ourselves in some games, we have to accept that – and we have to learn from the match today and see where we can end up better next year."
Nicolai Boilesen
"We started today's match the way we wanted to. They were dangerous on their attacks but I think we were in control of them. We earned a deserved victory today. I think we showed the right attitude across the 90 minutes. In the period when we were 11 against 10, we might have done better to go 3-1 up.
"We should be happy today but a difficult match awaits us on Wednesday, where we have something to avenge. We can be annoyed with ourselves for dropping some points, most recently against FC Nordsjælland, for example, but the other teams can too - and therefore we must go for a victory on Wednesday!"
Carlos Zeca
"We got off to a good start, we created chances and we pushed them well - and I think we played a good match - and at the same time we kept them from any really big chances. In the second half we showed that this was our game to win and we sensed that our second goal was coming.
"I'm so happy for our fans today, we really feel their support - it was AMAZING - so a big thank you to all 10,966 spectators!"
Rasmus Falk
"It was so great today, so good with fans in the stands, the pitch was good, the atmosphere was good - and I'm glad we were able to contribute to the good mood with three points.
"We know that we cannot decide anything ourselves, and that is not so good, but we will do everything we can to finish as high as possible. But since we cannot decide our own fate, we must hope that the others drop points. Now FC Midtjylland are waiting for Wednesday and there's some revenge for us to enact - but we go into the match after a couple of good performances, both today and against FC Nordsjælland, so I am confident before Wednesday's game."