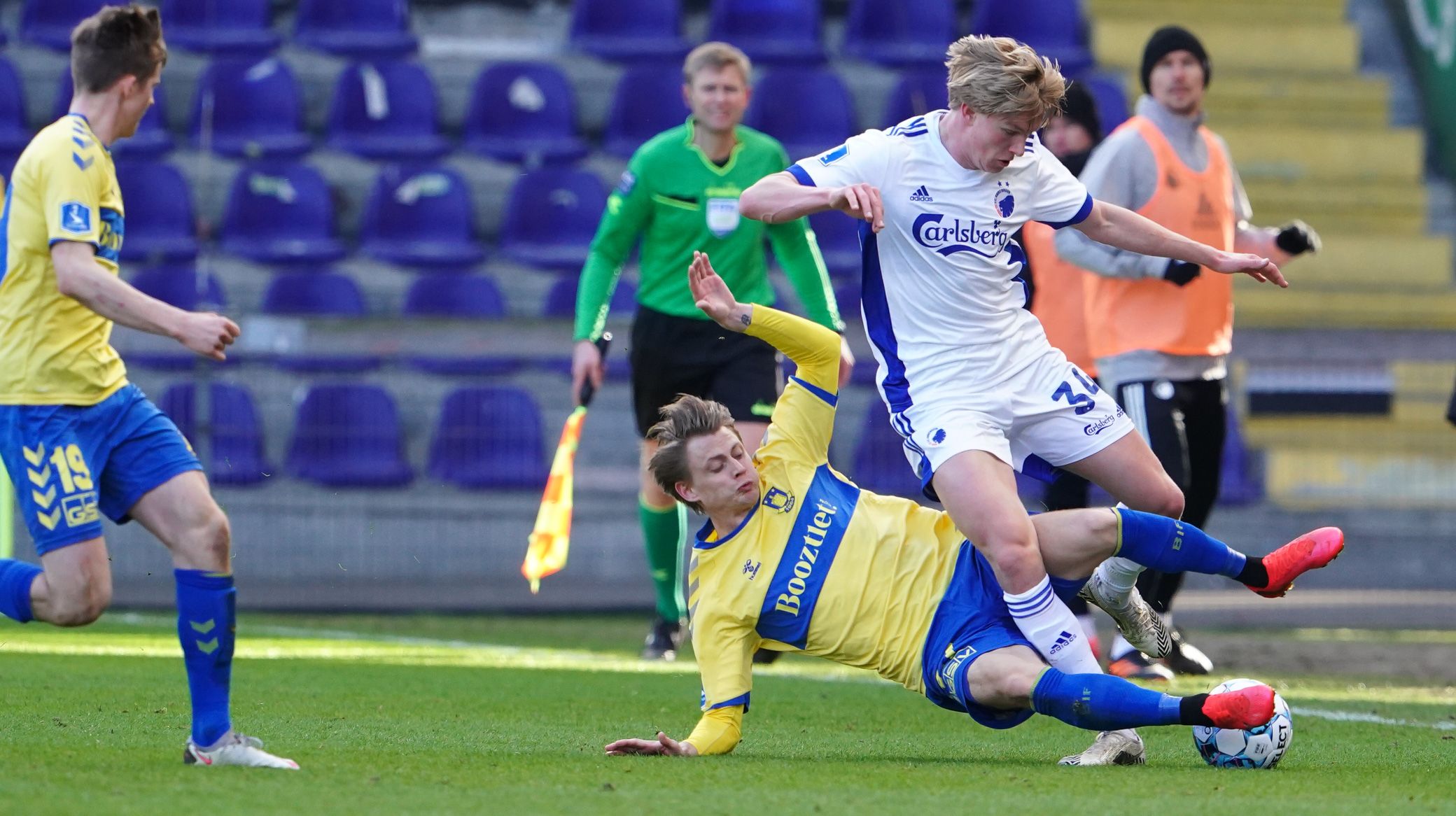 Lars Rønbøg, Getty Images
Falk and Zeca react to derby loss
08/03 2021 10:22
F.C. Copenhagen captain Carlos Zeca and playmaker Rasmus Falk discussed the Lions' 2-1 defeat to Brøndby on Sunday, which was affected by a number of VAR calls.
Kamil Wilczek had an equaliser ruled out with nine minutes remaining after the ball hit Falk's arm in the build-up to the goal.
Brøndby were then awarded a penalty after a VAR check for a Jens Stage foul on Andreas Maxso. And the VAR was then used again to rule over Stage's late consolation.
Carlos Zeca
"We played a good first half, but our missed chances and our mistakes cost us the match," said Zeca.
"That is the difference between losing and winning. I do not want to say much about VAR, but some things need to be changed and there is probably a little lack of clarity - and there are also too many stoppages, so yes, I miss football before VAR."
Rasmus Falk
"Of course I'm frustrated because I hate to lose - and the match today was not a match we should have lost," said Falk.
"But we made some mistakes, and Brøndby punished us for them. We played a sensible match but are left with nothing and that is an empty feeling.
"VAR takes up too much space and needs to be tightened up a bit. Today there are three or four situations, and in addition to destroying the rhythm of the match, we are also in doubt about whether we are left with the right rulings, because that is what we all want, the right ones.
"But back to the match, we have to reduce the number of errors, and other than that we played a good first half, and we should have been ahead at the break - where we had dominated the match.
"Yes, we are seven points behind Brøndby, but we can pick that up. There is no doubt that we have put ourselves in a difficult situation. But our performances are getting better and better, and of course it is possible to recoup seven points."