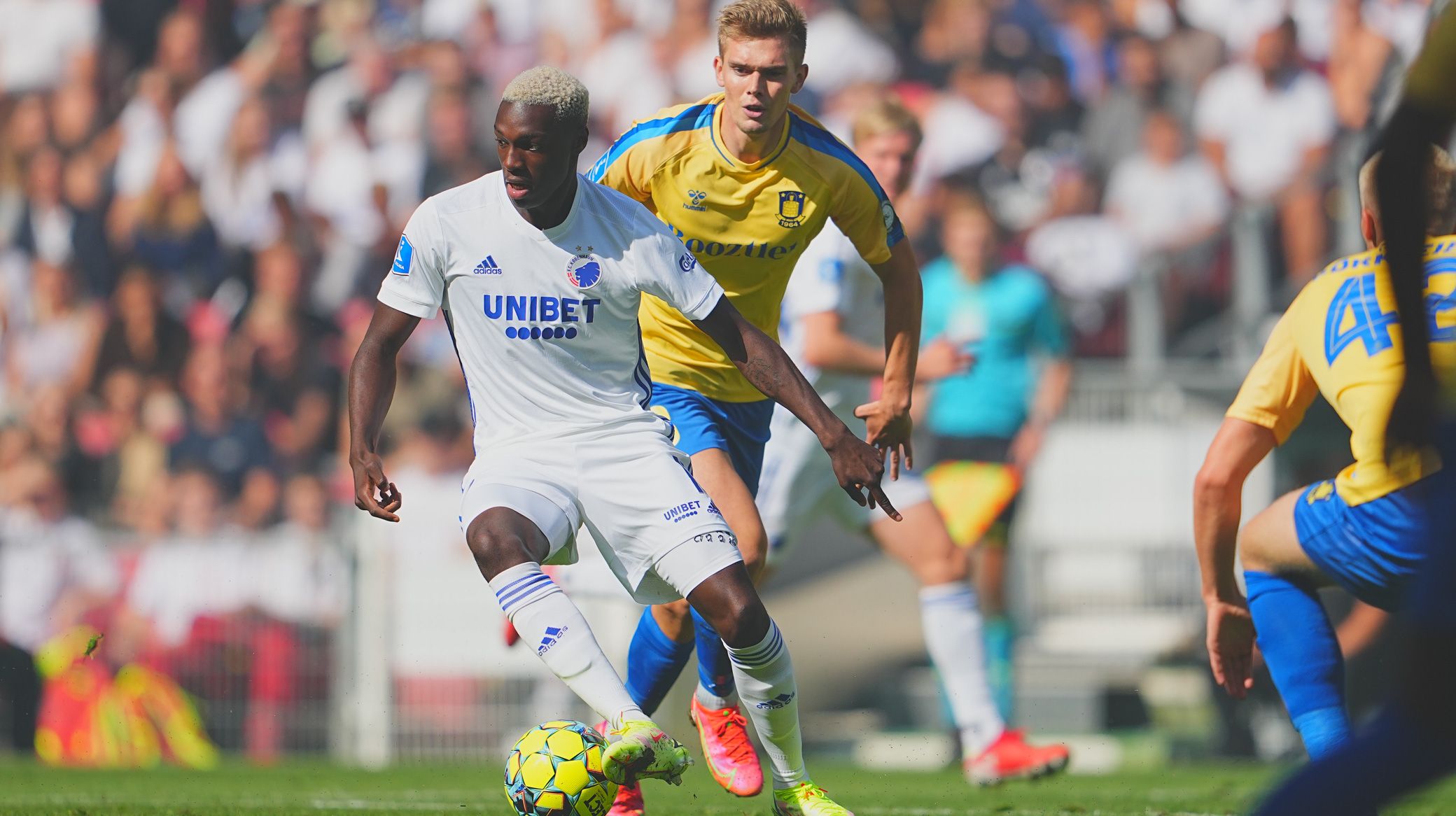 Lars Rønbøg, Getty Images
Daramy: Great to beat BIF alongside Kristiansen
08/08 2021 19:42
F.C. Copenhagen beat Brøndby 4-2 in Sunday's derby with youth products Mohamed Daramy and Victor Kristiansen playing a crucial role in the triumph at Parken.
The youngsters took command of the left flank and linked up well against more experienced opposition, as two goals from another academy product, Jonas Wind, plus strikes from David Khocholava and Pep Biel, ensured victory in the Danish capital.
"It was a great experience, and great to beat Brøndby again," said Daramy. "I came with a lot of good energy today, and gave everything I had in me - and I think Victor and I today were again good at finding each other on the flank. And we have shown that we can find each other on the big stage.
"I had success in a lot of one-on-one situations today, and then had Victor in the game too. They tried to put (Kevin) Mensah to mark me, but it's didn't go so well! How great it was to beat Brøndby, again!"
As for Kristiansen, the 18-year-old full-back was delighted to secure the victory for a packed Parken.
"It was great today and it was an amazing experience," he said. "I am happy, really proud and practically euphoric about today's victory. But the win also shows that we have not had quite as bad a start to the season as some say we have.
"Brøndby were also good today, and it was a close match, but I am glad that with today's victory we made sure that Brøndby are no longer undefeated."
Fellow defender Nicolai Boilesen added: "It was a fantastic atmosphere, and we showed that we are a team that can often perform when there is a full house. It's like we have a step up when we have a 12th man, as we had today. We also showed that at the end of last season in our two matches against Brøndby and FC Midtjylland.
"Unfortunately, we conceded two goals from set pieces, but I'm glad we didn't collapse when we let in the second. All in all, we were sharper than they were today, we came up with a lot of good play around their box - and looking at Brøndby, I don't think they were so dangerous, while we were more sharp."
Next up for FCK is a home clash with Lokomotiv Plovdiv in the UEFA Europa Conference League third qualifying round. The tie currently sits at 1-1 from the first leg and fans can still secure their place for the game at billet.fck.dk.