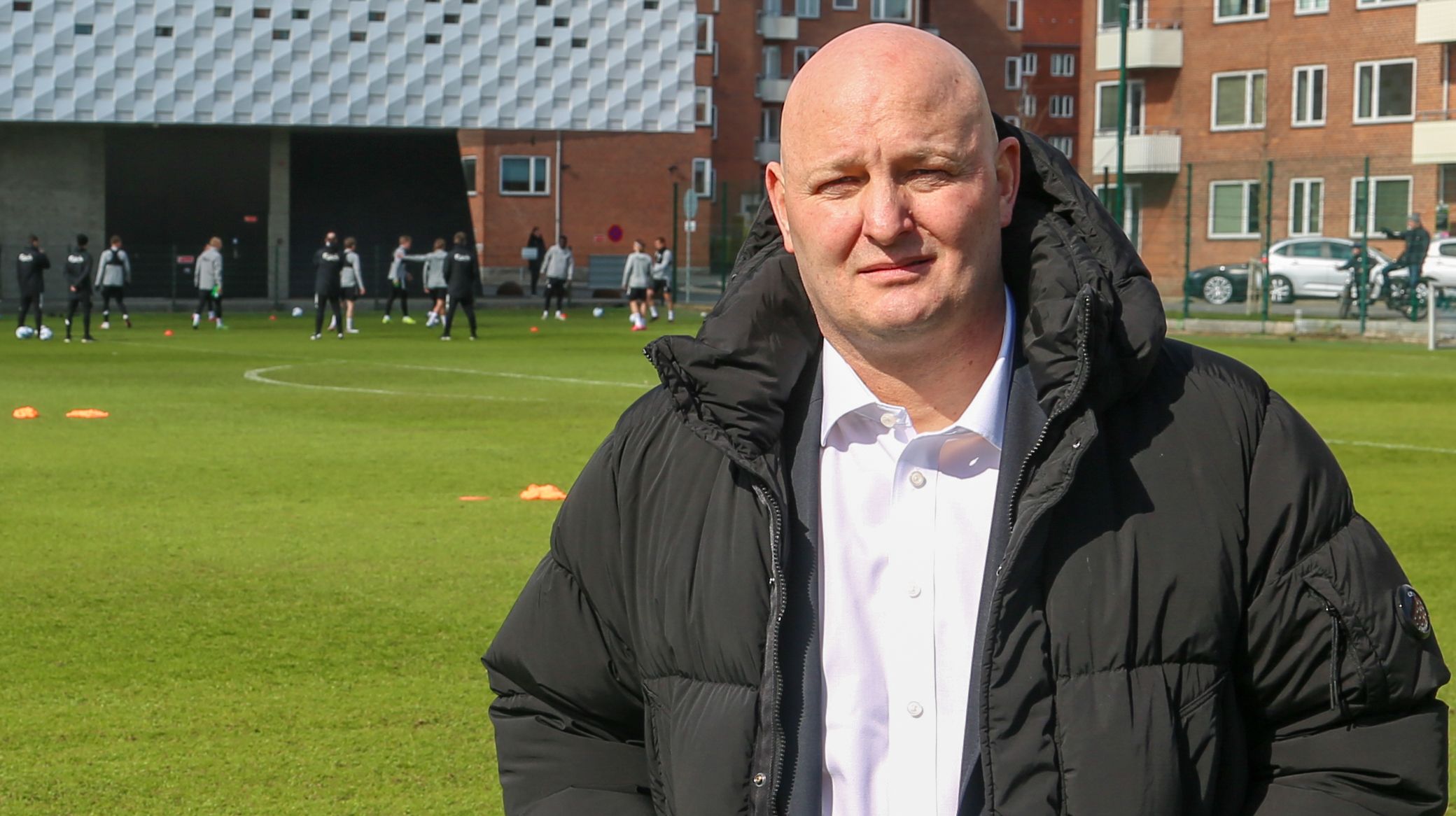 Torkil Fosdal, FCK.DK
Christiansen: Looking forward to getting started
02/04 2021 16:03
New F.C. Copenhagen Sporting Director Peter Christiansen says he cannot wait to get stuck into his role after completing his first day in the job on Thursday.
Christiansen is a former player of FCK and joins the Lions from his role at AGF.
 
"It has been important for me that I have personally greeted everyone before they could read about me in the media," PC told FCK.dk.
"I have had some really positive meetings and conversations with everyone over the past 24 hours, and now I am really looking forward to finally getting started with the work.
 
"FCK are a huge club and it is inspiring and challenging to write new chapters in the club's history with the team, the staff, everyone in the administration – and not least of all the FCK fans behind the club.
 
Know the club and high expectations
"There was a little consideration that I could start earlier, but that's how it is. Now I'm here and I have a lot of energy and work ethic for the tasks ahead.
 
"We have a number of extremely talented people both with the staff and on the team, and it is a great challenge for me to be part of FCK again."
 
PC arrives from a similar role at AGF and was previously a driving force at Randers FC, while as a player he represented Vejle and FCK between 2000 and 2005, where he helped the Lions win three Danish championships.
 
"I know FCK and the expectations both the environment and everyone in the club have for our performance and results," he said.
"It is a driving force and motivation for me with great ambitions, and we all have the goal to win the Danish championship and be an international football club that plays with the best in Europe every season.
 
"We also know that we are undergoing a transformation in the club, and that provides some fluctuations in performance, but no one should be in doubt that we will again be at least as dominant as FCK have been in the past.
 
"It is a big challenge but FCK is setting out to create great experiences and results, both domestically and internationally, so this is the task for me and everyone in the club to make sure that we succeed."
In his role at the club PC will take over sporting responsibilities from William Kvist and refer to the board.
 
Skilled staff and strong squad
"Although I have overall responsibility, we only achieve our goals by working collectively and closely together throughout the organisation," PC added.
 
"Both in relation to the structure and in relation to the people amongst the staff, where they have retained some talented people with great FCK experience and supplemented that with really strong people professionals from outside. It provides a strong foundation to work on, and now I look forward to getting to know everyone better, and get an insight into the output that comes from each position, so we can get the most out of all our resources."
The squad and transfers
In his role PC will also be responsible for transfers in and out of FCK. Speaking of transfers, he said: "I know it interests fans and the media a lot, but you are not going to read a lot of great headlines from me on that topic."
 
"Initially, I would like to state that I see a squad with great quality and breadth. Now I have to watch a lot of training sessions and matches, I have to get to know the players and coaches thoroughly, and I have to analyse this with coaches, scouts and our analysts before we decide anything about the composition of the squad.
 
Talents on the way
PC also highlighted the young players who are on their way up from the Talent Department, saying: "Of course I have seen FCK's matches and I have also seen a lot of youth football for a long time, so I know there are some very talented players on their way through the system.
 
"Sometimes players from the club's own talent department can bring qualities into a squad that are so high that you cannot buy them. FCK has seen this before with (Thomas) Delaney and now also with Jonas Wind and (Mohamed) Daramy, who are talents at an international level.
 
"That is why it is important that we make sure that there is also room for those who are good enough from our own stock."
First-team focus
On Monday FCK resume the 3F Superliga season with the start of the Championship Round, where the league is split into two and the top six teams each play one another twice over 10 games.
The Lions fourth in the table, 10 points off league leaders Brøndby.
"Right now we all need to focus our attention and energy on putting together a strong championship round," PC added.
 
"There are still 30 points to play for, and the simple thing is we'll only earn as many as possible by keeping focus on the next task, and right now that's Randers on Monday in Parken.
 
"All the talk about league position is kind of irrelevant. It's about getting all the points we can scrape together, and that's our focus."