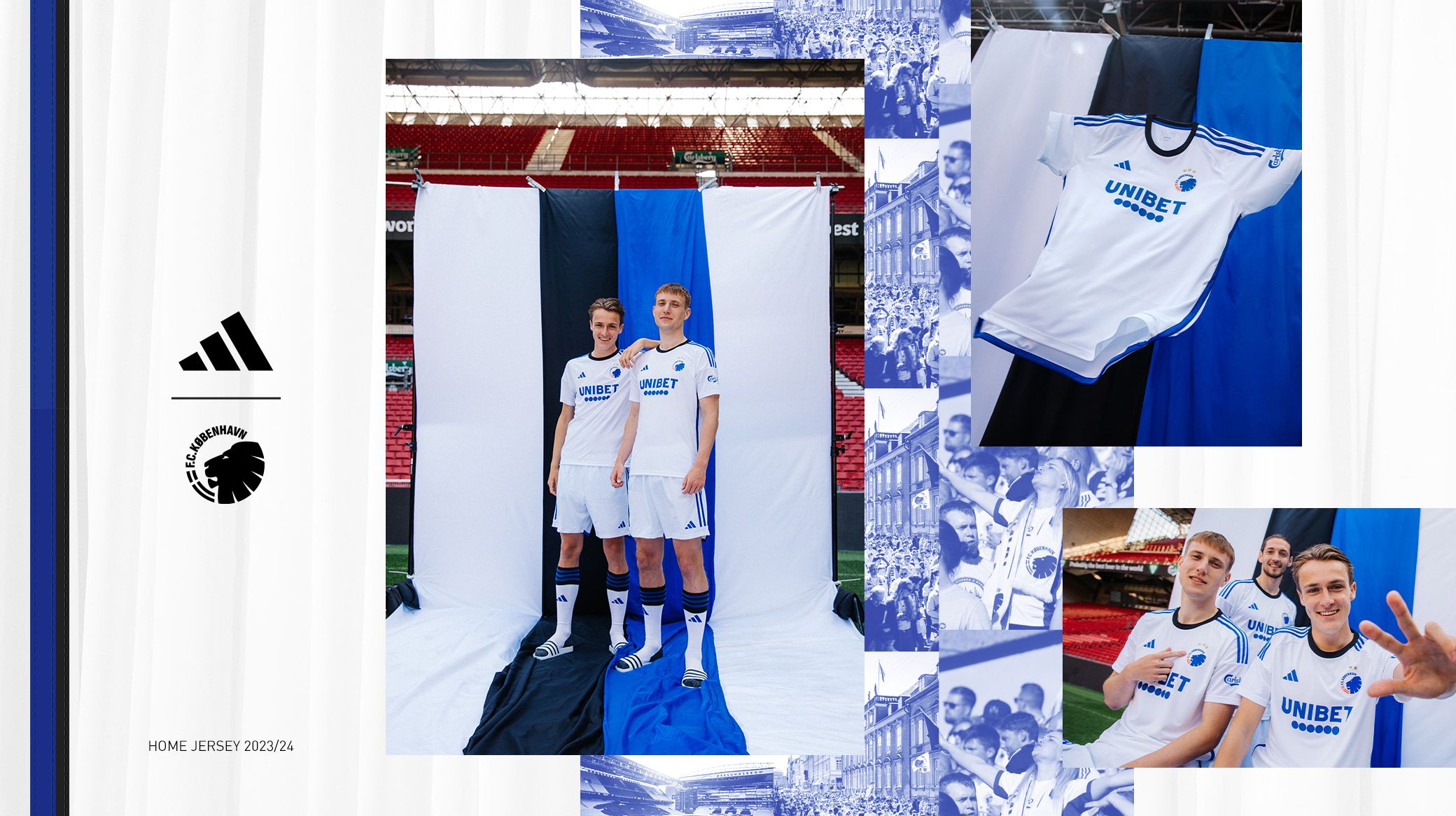 Samy Khabthani, FCK.DK
adidas & F.C. Copenhagen Home Jersey 23/24
13/07 2023 10:00
Introducing the new F.C. Copenhagen x adidas home jersey for the 2023/24 season
Here at F.C. Copenhagen we're looking forward to an exciting new season following our successful league and cup double in 2022/23 – and the players will now step out into Parken with three stars above the club crest on the new adidas home jersey for 2023/24.
Classic colours at play
The new F.C. Copenhagen home shirt, currently available at the FCK Fanshop on Øster Allé and online at fckfanshop.dk, is primarily white, as always. In addition to the white base, the jersey features a prominent black round collar, as well as blue stripes on the sleeves and sides.
The jersey is also the first to feature adidas' new logo, which will be seen on various shirts going forward. In addition to adidas, the sleeve of the jersey has a Carlsberg logo on it, while a blue Unibet logo is still to be found on the front of our jersey. Unibet who will be on the front of our jerseys in the coming season after they've decided to activate their option for a year's extension as Main Partner. At the base of the neck, the jersey has the recognisable coat of arms with the phrase 'Vi er København' (We are Copenhagen) underneath.
>> Take a closer look at the jersey and shop here
The jersey with the three stars
The new shirt will be the first in a series to feature three stars above our logo, symbolising the 15 championships FCK have won. A third star was earned in style in June 2023, where, following our ninth Danish Cup win, we were also able to celebrate our 15th championship and secure The Double.
Designed by adidas
The jersey is designed by adidas, who were keen to bring give something back to the FCK fans who broke attendance records last season.
"The aim of the home kit was to appeal to the core of F.C. Copenhagen fans. Throughout the club's history, the jerseys have had a white base with blue and black details. The goal was to focus on these traditional club colors in a simple design and give proper attention to the three stars proudly sitting above the club's logo for the first time", says Neil McDonald, GTM Manager at adidas Football.
Buy the jersey in the FCK Fanshop
The new jersey can currently be purchased at the FCK Fanshop in Parken as well as online at fckfanshop.dk. If you are a season ticket holder or a subscriber, remember to claim your 10% discount! Adult jerseys cost 749 DKK this year, while children's jerseys remain at 549 DKK. Player names and numbers (excluding special prints) cost an additional 100 DKK. International online orders are also available for fans outside of Denmark.
The jersey is available for men, women, and children in the following sizes:
Adult model from XS to XXXL
Women's model from XXS to XXL
Children's model from 8 years to 14 years
Mini-kit from 1 year to 6 years (arriving in August)