F.C. Copenhagen season tickets and subscriptions for 2020/21 
F.C. Copenhagen season tickets and subscriptions are on sale and you can get your seat for the biggest matches of the 2020/21 campaign today!
If you want to experience the atmosphere and excitement of Scandinavia's biggest football team then now's your chance.
FCL is an inclusive club for fans of all ages and nationalities – just like our beloved city.
Here's everything you need to know about buying F.C. Copenhagen season tickets and subscriptions in 2020/21.


RENEWAL INFO: Renew your season ticket or subscription before the deadline on Wednesday, 2 September 2020 at 12:00 to keep your regular seat and earn a 10% discount! Or, get your first month for free if you want to convert to a subscription.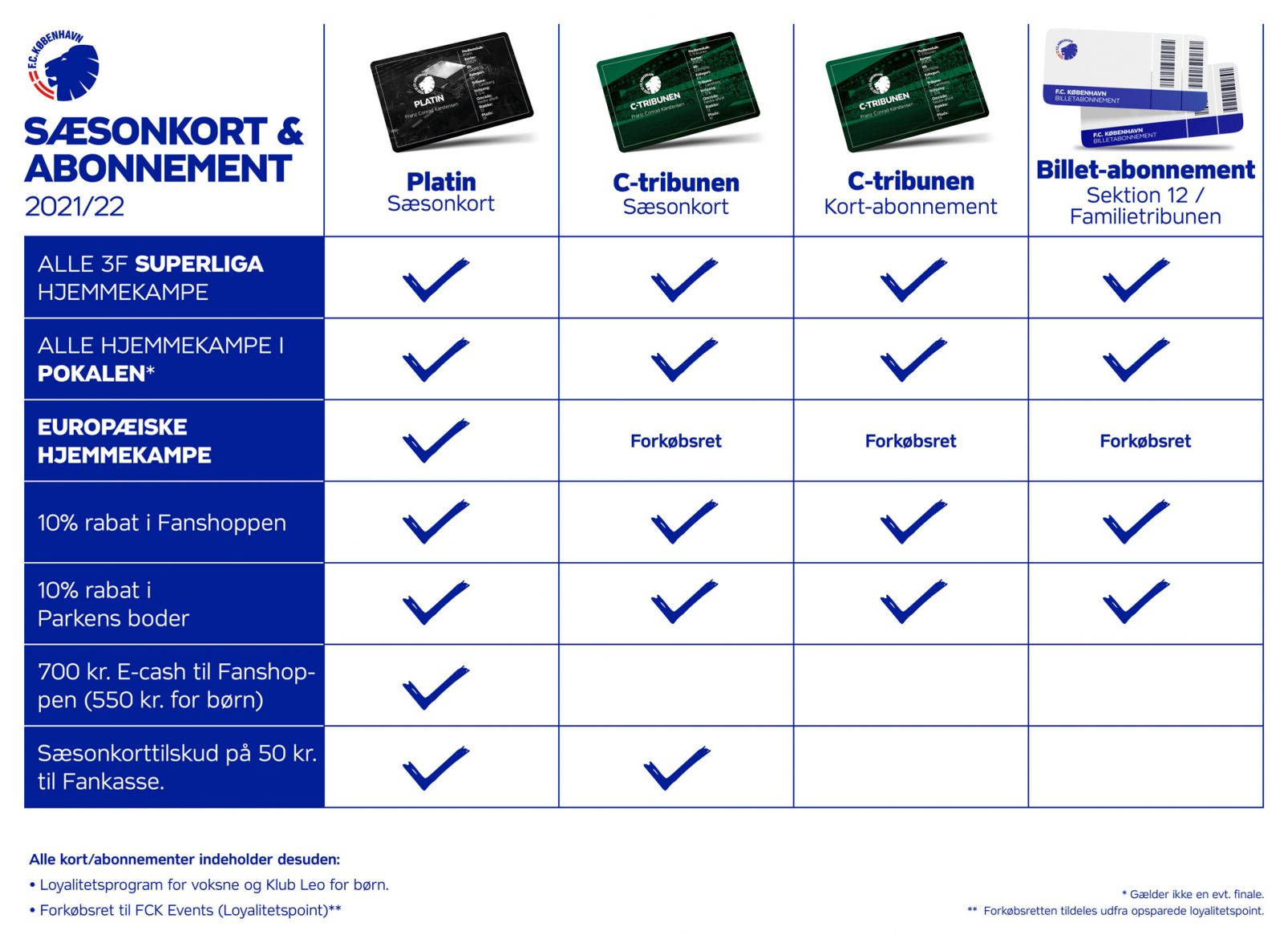 INFORMATION & PRICES
Discover information and prices for season tickets and subscriptions in all four stands of Telia Parken for the 2020/21 season.
WHICH STAND IS BEST FOR YOU?
F.C. Copenhagen has room for all types of people who want to come and watch great football every weekend. You can get a season tickets or subscription in the stand that's right for you, so you can enjoy the game how you like it.
Lower C Stand - This is the standing section of the C Stand that boasts an amazing selection of all types of Copenhageners. The Lower C is an iconic stand where fans have passionately supported the team since 1995.
>>> Check out where to sit in the Lower C Stand
Sektion 12 - This is where the atmosphere for FCK games is generated. Sektion 12 is directly behind the goal and supporters are not allocated a specific seat. Get ready to chant, celebrate and have a beer with your fellow FCK fans here. Supporters must be aged 15 or over.
>>> Check out season ticket and subscription options in Sektion 12
Family Stand - F.C. Copenhagen ensures familiaes can watch football in a safe and secure environment. That's why we urge families to watch games from the Family Stand, where kids can get autographs and selfies with players, have fun in the Fanzone, enter competitions and partake in other cool activities. Fans here can also dine in the exclusive Klub Leo Lounge.
>>> Check out season ticket and subscription options in the Family Stand
Upper C Stand - For fans who want a defined seat and a good view of the game, the Upper C Stand is perfect. There are plenty of options to select your seat and take in the entirety of Telia Parken.
>>> Check out season ticket and subscription options in the Upper C Stand