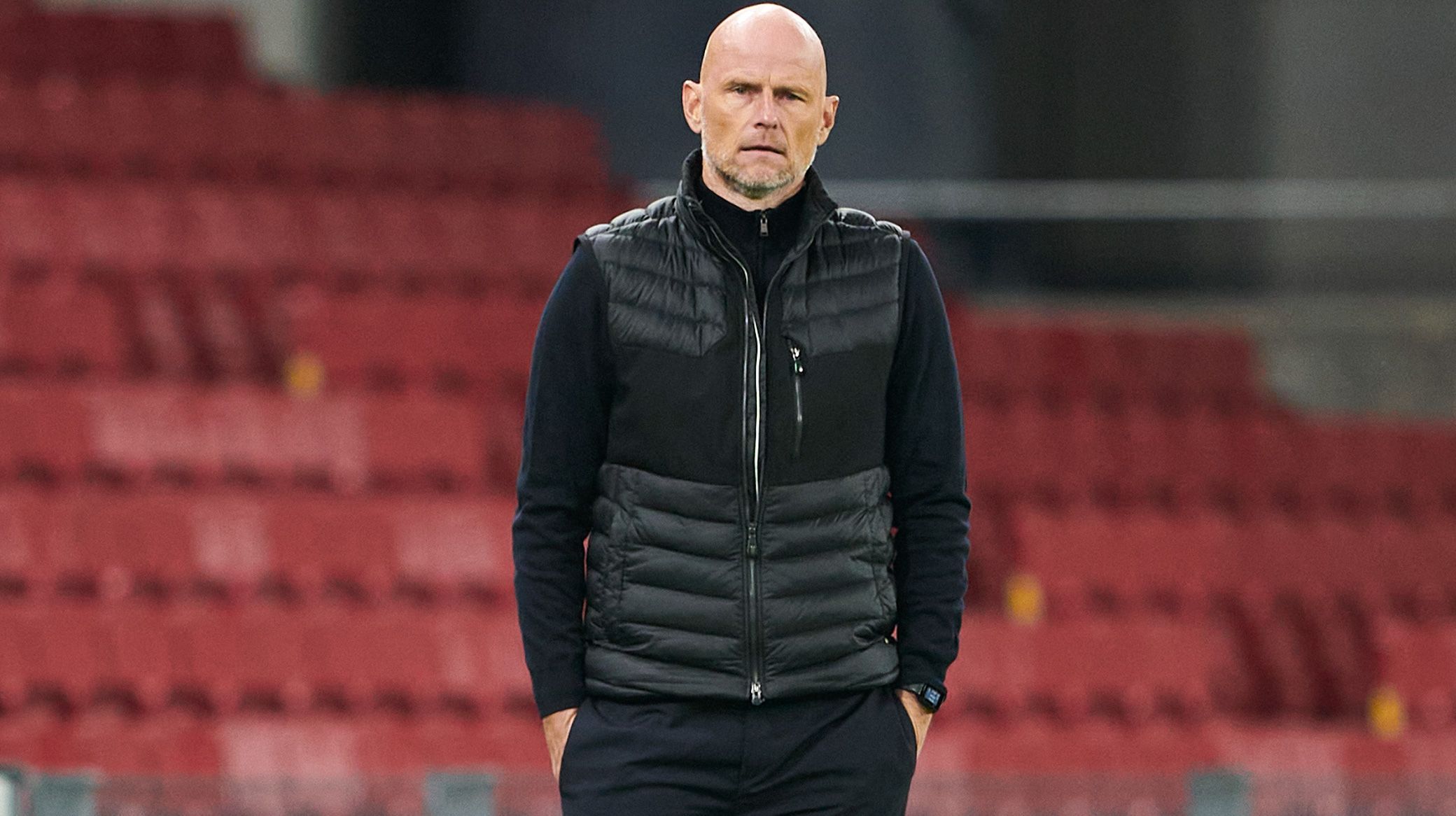 Lars Rønbøg, Getty Images
Ståle: Min mørkeste dag som FCK-træner
01/10 2020 22:55
"Det er nok min mørkeste dag i begge de perioder, jeg har været ansvarlig for holdet, og vi er på det laveste niveau i de perioder, måske bortset lige fra den første tid, jeg kom tilbage i 2013," indledte Ståle på aftenens pressemøde.
"Vi troede, vi var restitueret både i hovederne og benene, og vi havde forberedt os godt og starter også kampen okay. Men så får de det bizarre selvmål, der på en måde opsummerer vores situation lige nu."
"Siden er vi ikke i nærheden af at skabe en chance før pausen, men i 2. halvleg får vi lagt mere tryk på og prøver nogle andre formationer. Vi genvinder noget energi, og er måske lidt uheldige med den sidste afslutning, men stadig er det ikke det niveau, vi gerne vil være på."
"Vi må bare lægge os fladt ned, og jeg er hovedansvarlig for det her og har ondt langt ind i krop og sjæl. Det er ikke sådan, vi vil optræde i en supervigtig kamp, både historisk, økonomisk og sportsligt set. Det skader både forretningen og stoltheden."
"Jeg har før prøvet at forklare, hvorfor vi er kommet i den her situation, og det vil jeg ikke gentage her. Det er ikke bare en, to eller tre ting, der er problemet, men en række forskellige faktorer."
"Jeg har bl.a. sagt, at vi mangler fart og gennembrudskraft i holdet, og derfor havde jo planer om at hente en kantspiller med fart. Men det bliver svært nu med den økonomiske situation, hvor vi går glip af indtægter på 50-60 mio. kr. "
"Jeg forstår også godt, at der er mødt fans op herude. Bare de er saglige, og der er en fornuftig markering, så forstår jeg det godt. Det er også sket før, og det skal vi ikke have ondt af os selv over."
"Men nu må vi tage alt det frem, som vi har, både jeg og staben og spillerne. Der er ikke så meget andet at gøre end at arbejde stenhårdt videre på at vende det her i Superligaen. Der er der trods alt mange kampe endnu, men der her kamp kan vi først få igen om et år," sluttede Ståle.