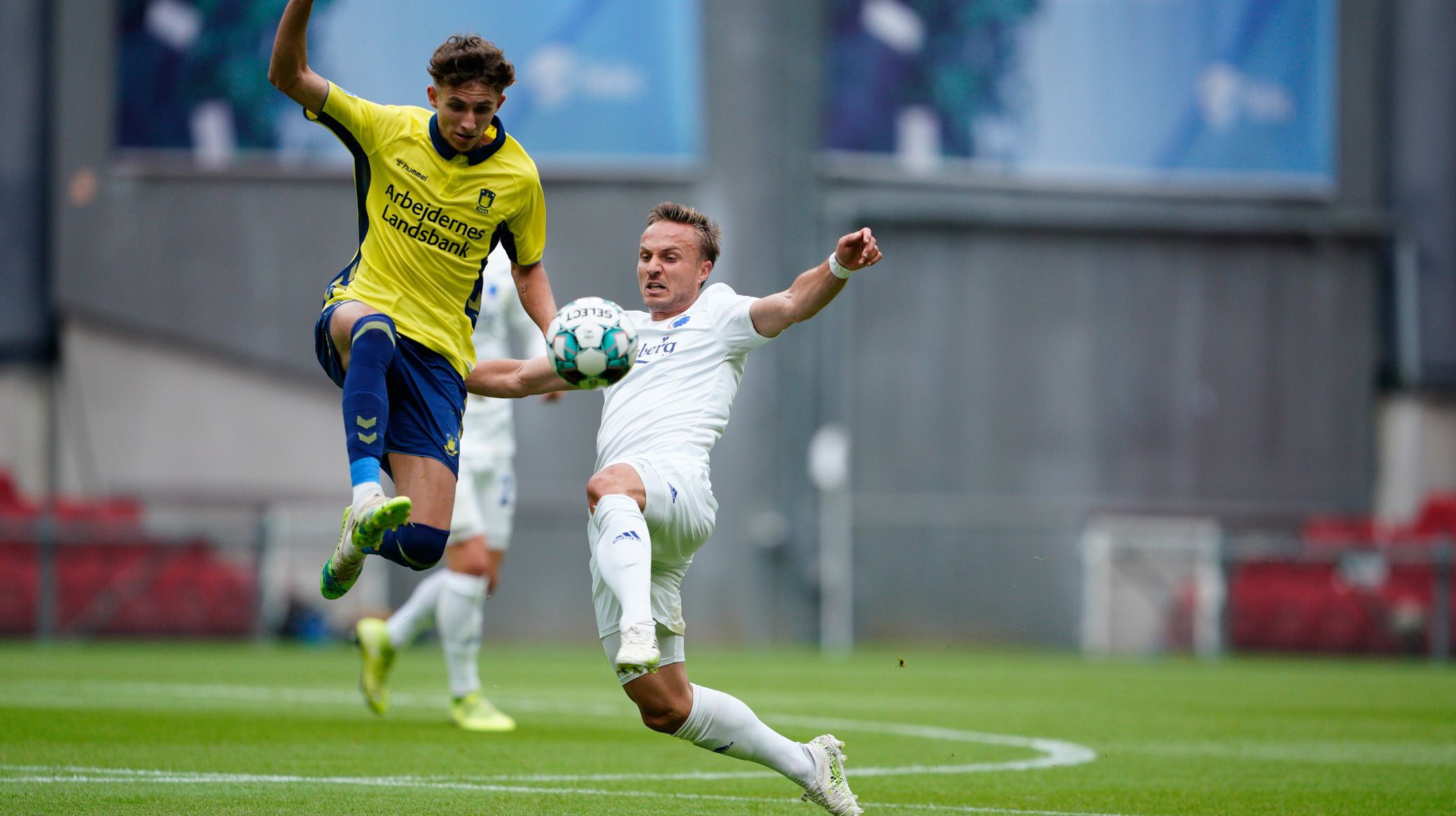 Lars Rønbøg, Getty Images
Fokus på Brøndby IF
19/09 2020 10:30
Det er svært at lave sæsonstatistik på én kamp, men tabellen lyver jo aldrig, så Brøndby er ubesejrede, og vi er... besejrede.
Til gengæld er der rigeligt at vælge mellem i de to klubbers indbyrdes historik, for det er Superliga-Derby nr. 92 siden 1992.
Vi har vundet næsten lige så mange, som vi ikke har vundet: 44 sejre, 22 uafgjorte og 25 nederlag. Og i Parken har vi kun tabt to hjemme-Derbyer i Superligaen siden 1998.
Det seneste sluttede 0-0 den 12. juli i Parken, og det var blot det syvende målløse Superliga-Derby. Fem af dem er endda faldet i de seneste 7 år, mens det kun skete to gange i de første 21 år. Og det er aldrig sket to gange i træk.
Brøndbys pre-season
Brøndby varmede op med fire træningskampe:
22.08 h 3-1 Næstved (Bjur 2, Hedlund)
27.08 h 2-1 FC Helsingør (Kvistgaarden, Maxsø)
31.08 u 2-1 OB (Uhre, Vigen)
05.09 u 1-1 Crystal Palace (Lindstrøm)
Der er ikke sket de store ændringer i truppen siden sidste sæson.
Rezan Corlu er vendt tilbage fra lejemålet i Lyngby, men afsoner på søndag den anden af to karantænedage fra sidste sæson (det samme gør Andreas Maxsø i øvrigt).
Ante Erceg vendte også tilbage fra udlejning til Esbjerg, men er i stedet udlejet til Mudrazijas tidligere klub, NK Osijek.
Samuel Mraz er vendt tilbage til Empoli
Simon Tibbling er solgt FC Emmen
Kasper Fisker stoppede ved kontraktudløb og tørner nu ud for Fremad Amager.
Seneste kamp
I sæsonpremieren hjemme mod FC Nordsjælland, hvor Brøndby vendte 0-2 til 3-2-sejr, startede de med
Hedlund, Uhre
Bjur, Vigen, Frendrup, Slimane, Bruus
Jung, Rosted, Hermannsson
Schwäbe
På bænken sad Hermansen, Lindstrøm, Radosevic, Kabongo, Skipper, Kvistgaarden og Børkeeiet.
 

Golden Facts - præsenteret af Unibet 
F.C. København har fået over 4,5 hjørnespark i 4 af deres seneste 5 hjemmekampe mod Brøndby IF
-> FCK over 4,5 hjørnespark: odds 1,40
Der er scoret under 3,5 mål i 17 af F.C. Københavns seneste 20 kampe mod Brøndby IF
-> Under 3,5 mål: odds 1,41

Spil med omtanke.
18+. Regler og vilkår gælder. 
Stopspillet.dk.
Rofus.nu.