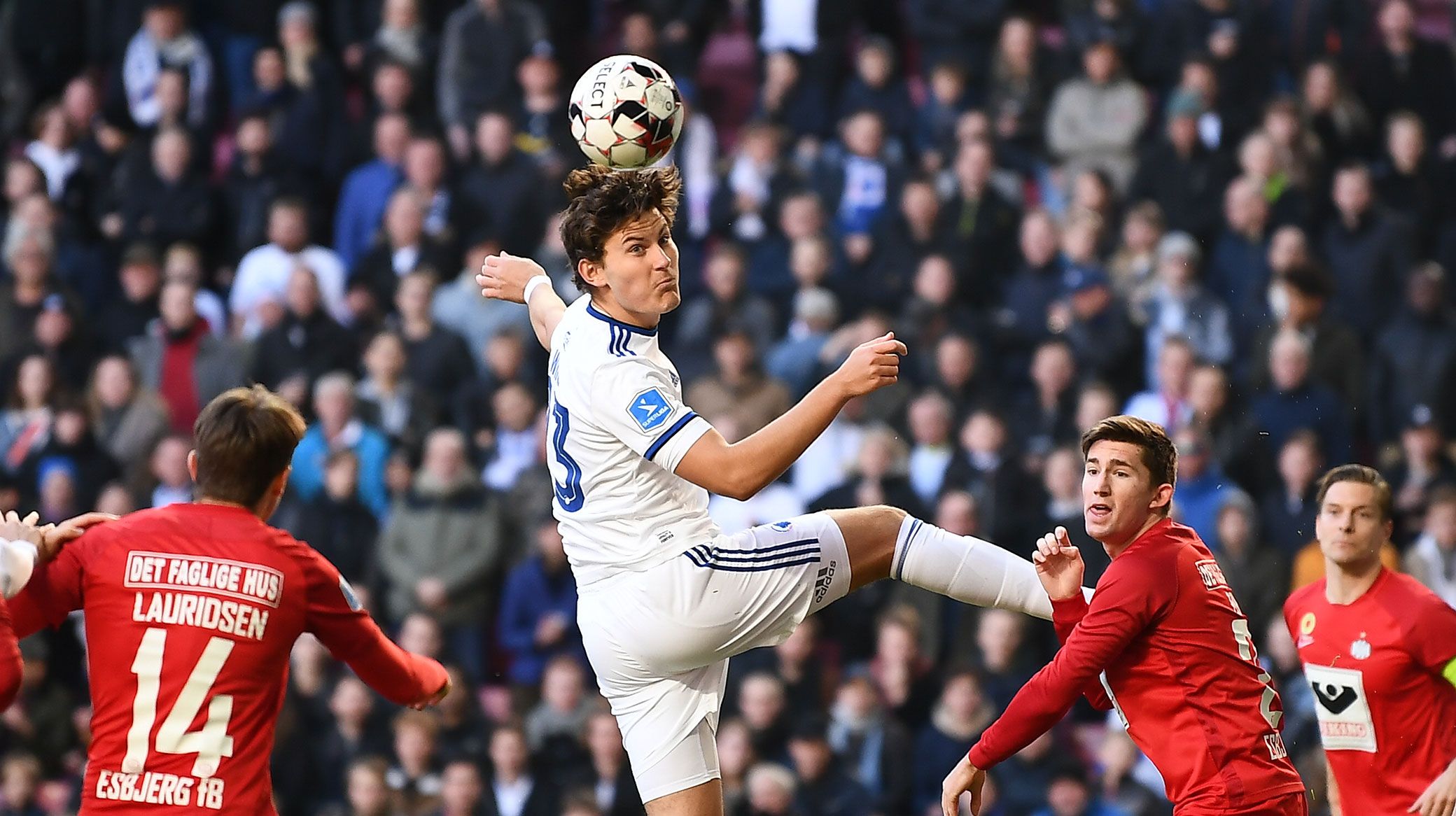 Lars Rønbøg, Getty Images
Esbjergs oprykkere kæmper for bronze
16/05 2019 15:50
Esbjergs medaljekamp
Esbjergs nederlag til OB i søndags var det første efter seks kampe som ubesejret, men hjemme i Esbjerg har de holdt nullet i de seneste tre hjemmekampe, hvoraf de seneste to er endt 0-0.
Nederlaget betød, at vestjyderne måtte aflevere tredjepladsen til OB inden de sidste to runder, hvor Esbjerg møder os og FC Midtjylland, mens OB mangler FC Nordsjælland og Brøndby. Med et nederlag på søndag risikerer oprykkerne derfor at være ude af medaljekampen, men kan stadig se tilbage på en flot sæson under cheftræner John Lammers' ledelse.
Statistikken er med os
Vi har vundet de seneste 11 Superligakampe mod Esbjerg og ikke tabt til dem siden maj 2013, hvor vi (også) allerede havde sikret mesterskabet. Ellers skal man tilbage til marts 2009 for at finde det næste nederlag, og begge gange tabte vi i Telia Parken. I Esbjerg har vi ikke tabt siden marts 2008.
Funfacts om indbyrdes kampe
César Santin er vores topscorer mod Esbjerg med 7 mål. Nicolai Jørgensen har scoret 6, og Dame N'Doye 5.
Mohamed Daramys sejrsmål mod Esbjerg i marts gjorde ham til den yngste spiller, der har scoret i en kamp mellem os og Esbjerg
Der er udvist 10 spillere i vores Superligakampe mod Esbjerg fB - fem fra hvert hold. Vores syndere er Thomas Rytter (1999), Peter Christiansen (2004), Peter Larsson (2009), Ragnar Sigurdsson (2013) og Jonas Wind (2019)
To FCK'ere har lavet selvmål mod Esbjerg: Olof Mellberg i november 2013, og Tom Høgli i maj 2015

Portene åbner 16.30
Portene til vores fanafsnit på Blue Water Arena åbner kl. 16.30. Esbjerg fejrer Regionens Dag og har inviteret alle sine samarbejdsklubber i "Sydvestjysk Fodbold Samarbejde", så klubben forventer meget liv og aktivitet på og omkring stadion.
>> Guldfest 25. maj - vi nærmer os 30.000