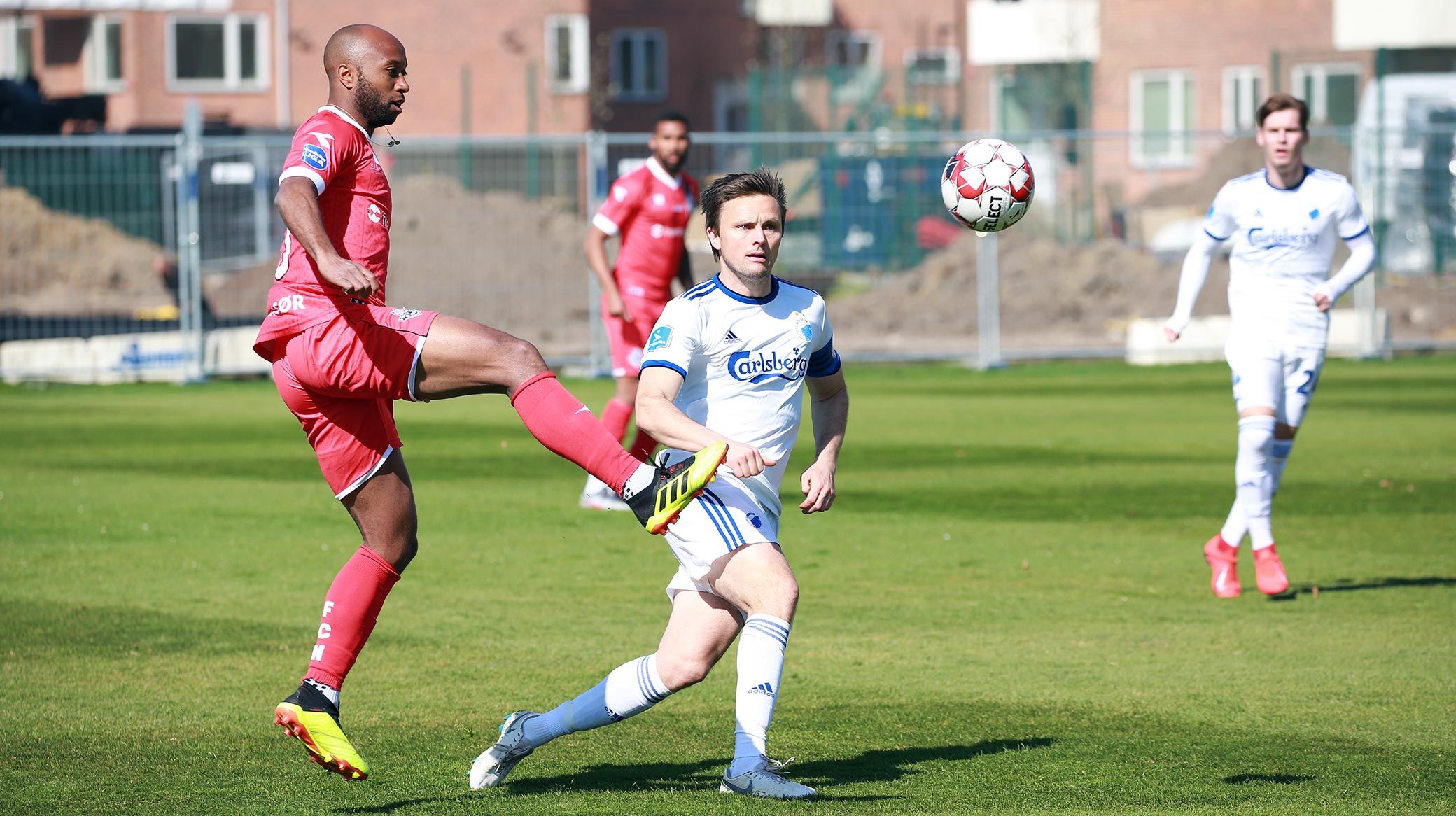 FCK.DK
Nyt reserveliga-nederlag
23/04 2019 14:35
Det blev en trist 14-års dag for William Kvists førsteholdsdebut. Ikke nok med at reserveliga-holdet tabte hele 6-0 til FC Helsingørs reserver, men han måtte også forlade banen efter at have slået ryggen i et hændeligt sammenstød med en modstander.
Det var dog ikke værre end, at han selv kunne rejse sig og gå ud, og den nærmeste tid må vise, hvor slemt det er.
Til gengæld er det vist tydeligt for enhver, at det står slemt til med reservernes resultatliste denne sæson, selv om resultatet ikke er det primære med disse kampe. Man kan præstere udmærket efter omstændighederne og tabe 0-1, som holdet har gjort flere gange, men der har også været kampe som i dag, hvor vi har lukket 5-6 mål ind og nærmest ikke skabt noget selv i den anden ende.
I dag førte Helsingør 2-0 efter ti minutter og 4-0 efter en halv time, og selv om vi kom bedre ud efter pausen og holdt dem fra chancer i det meste af 2. halvleg, så puttede de to mere ind i de sidste ti minutter.
Gæsterne stillede med en blanding af erfarne førsteholdsspillere og unge spillere, og den amerikanske nyerhvervelse Collen Warner tegnede sig bl.a. for tre mål.
For vores vedkommende blev kampen bl.a. brugt til at give Michael Lüftner comeback, og det gik udmærket med knæet efter hans lange skadepause.
Holdet i dag:
31 Frederik Ibsen – 44 Jacob Haahr, 27 Michael Lüftner (63.: 53 Marcus Korang), 4 Sotirios Papagiannopoulos, 42 Ludvig Henriksen – 45 Felix Winther (46.: 36 Tobias Pedersen), 6 William Kvist (anf.) (57.: 50 Jonathan Canto), 24 Robert Mudrazija, 8 Nicolaj Thomsen (63.: 39 Andreas Kirkeby) – 40 Mohamed Daramy, 38 Alexander Hjælmhof
Ikke benyttet: 41 Christoffer Monty, 52 Sebastian Fischer

Forårets sidste opgave for reserverne er tirsdag den 14. maj hjemme mod FC Nordsjælland.