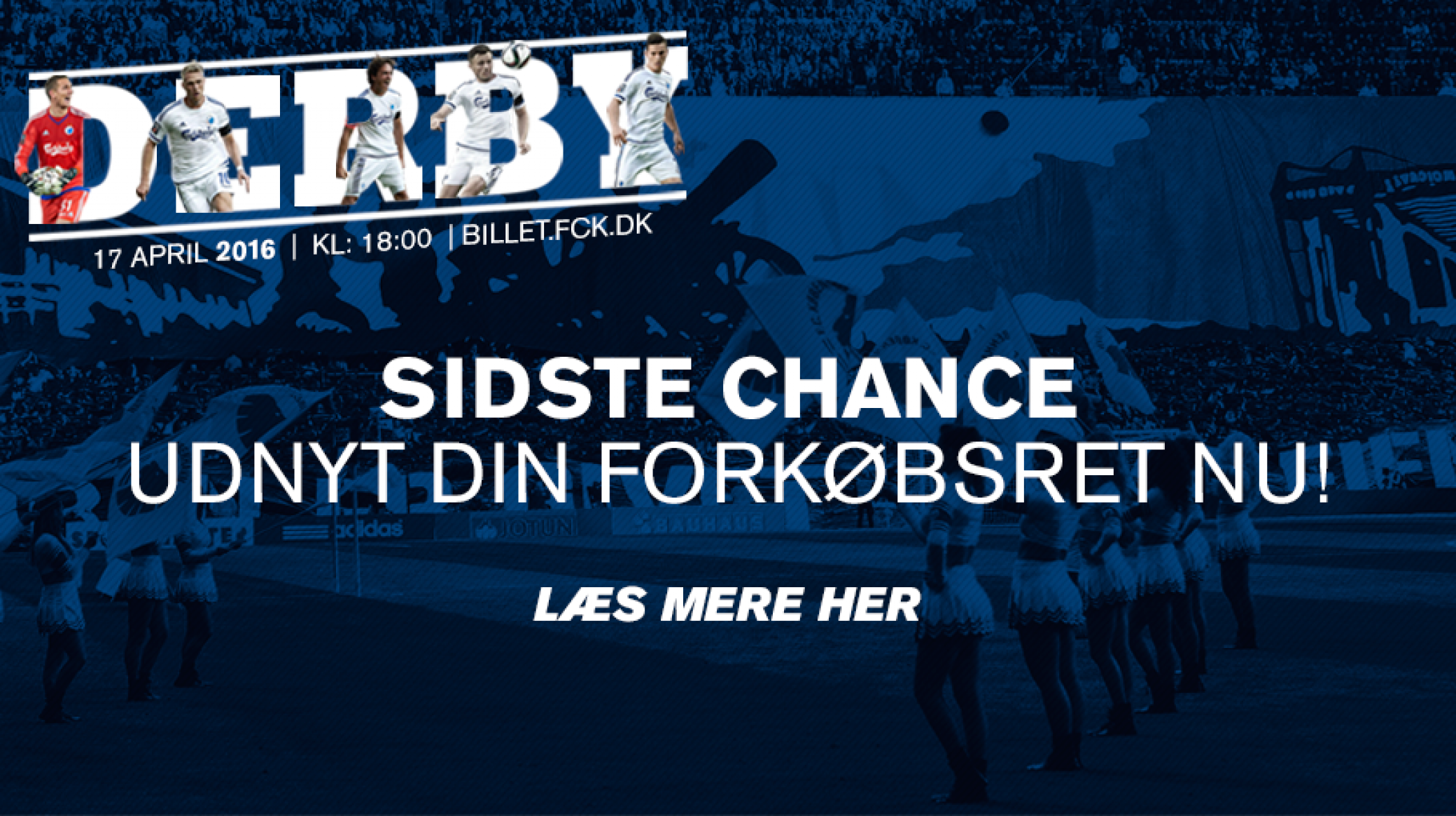 Forkøbsretten udløber i morgen
20/03 2016 17:00
I morgen udløber forkøbsretten - så skynd dig, hvis du vil have fat i nogle af de bedste pladser!
Hvis dine ikke-sæsonkortholder-venner vil være sikker på at få en billet, skal du hjælpe dem nu ved at gøre brug af din forkøbsret - vi kan ikke garantere der ikke bliver udsolgt – og lige nu tilbyder vi de bedste pladser på stadion –
Sektion 12 forventes udsolgt lige om lidt pga. sæsonkortholdere
….. Køb derfor nu nu nu! I har allerede fået mail herom - tjek gerne jeres spamfilter, hvis det ikke er tilfældet, at den ligger i indbakken. 
Forkøbsretten udløber mandag kl. 12.00.  
Generelt salg 
Det generelle salg for hjemmebanetilskuere starter mandag den 21. Marts kl. 12:00 
Det er stadig muligt at købe halvårssæsonkort. Og planlægger du at se yderligere en eller to kampe ud over derbyet, er det tjent hjem. Halvårssæsonkort starter fra kun 380,- for voksne. Derudover får du desuden adgang til konkurrencer, auktioner, rabatter og merchandisekøb i vores loyalitetsportal. 
Udebanetilskuere 
For tilskuere, der holder med Brøndby, henviser vi til billetsalget hos Brøndby. Hold øje med Brøndbys hjemmeside for mere info. 
Sikkerhedsinformationer 
Bemærk, at der ikke er Familietribune til kampen – samt at billetsalget, som starter i dag KUN er til F.C. Københavns egne tilskuerafsnit. Der findes IKKE neutrale tilskuerafsnit. Fans af Brøndby har KUN adgang til Brøndbys fanafsnit. 
Overtrædes dette vil det medføre øjeblikkelig bortvisning uden mulighed for refusion af billetten. Dette af sikkerhedsmæssige årsager.
Yderligere info omkring sikkerhed kan læses på FCK.DK i dagene op til kampen.