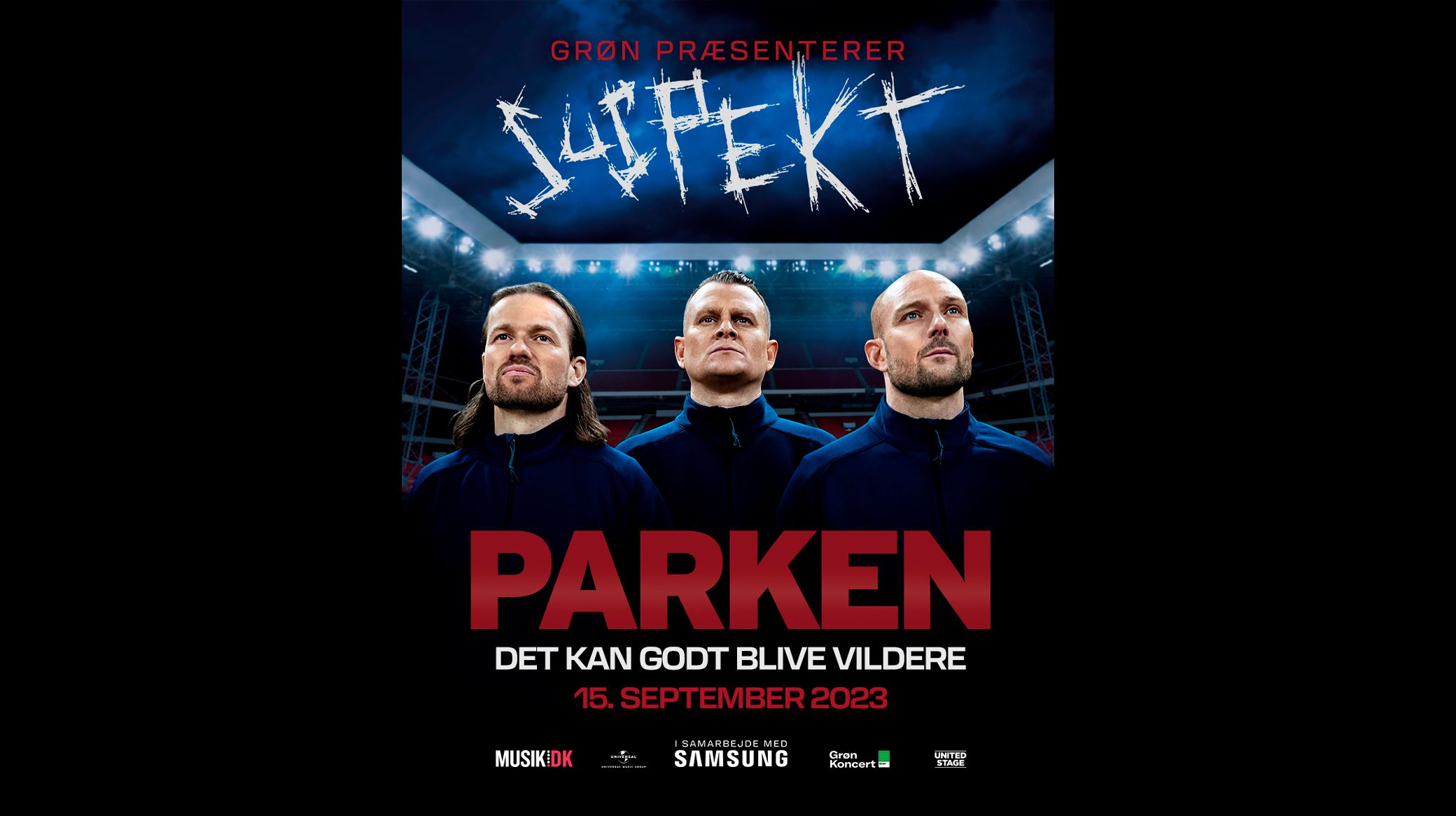 Suspekt to play Parken on 15 Sept.
24/01 2023 15:26
Danish group Suspekt will play live in Parken Stadium on 15 September 2023, with tickets due to go on sale from 1 February.
The gig is expected to be a huge party inside Denmark's national stadium and is a first for the band at Parken.
Suspekt Parken tickets go on sale at 10am on 1 February from musik.dk.
The band, which formed in 2008, is today one of Denmark's biggest and most popular music groups. 
"The idea of the concert is to bring the whole nation together in a celebration of community," says Emil, Andreas and Rune from the band.
"We want to gather a fragmented people and find the common denominator through the celebration of several generations of life experiences with our music. It is not Suspekt that should be celebrated for selfish reasons, but people, who will come together around music. The intention is for the event to be bigger than Suspekt."
Parken is now due to stage six concerts over 2023 and director Jacob Lauesen says adding Suspekt to the bill is a great step forward.
"We are really looking forward to it," says Jacob.
"It's fantastic that once again a Danish band has the courage and quality to pack Parken for a huge gig.
"It's always great having big concerts here, but there's an extra energy when it's Danish artists on stage. It's important for all of us who love stadium concerts that those experiences also have Danish artists at the core."
There will be 50,000 Suspekt Parken tickets available for the gig. And the bang is inviting everyone to be a part of the special night.
 
"In the last year we have seen people embrace our songs and brand so much that it has created a journey – a journey that we ourselves are not 100 percent in control of. In other words, it has become bigger than the music. Denmark has become Suspekt, and therefore we see an opportunity to bring the country together," add Emil, Andreas and Rune.