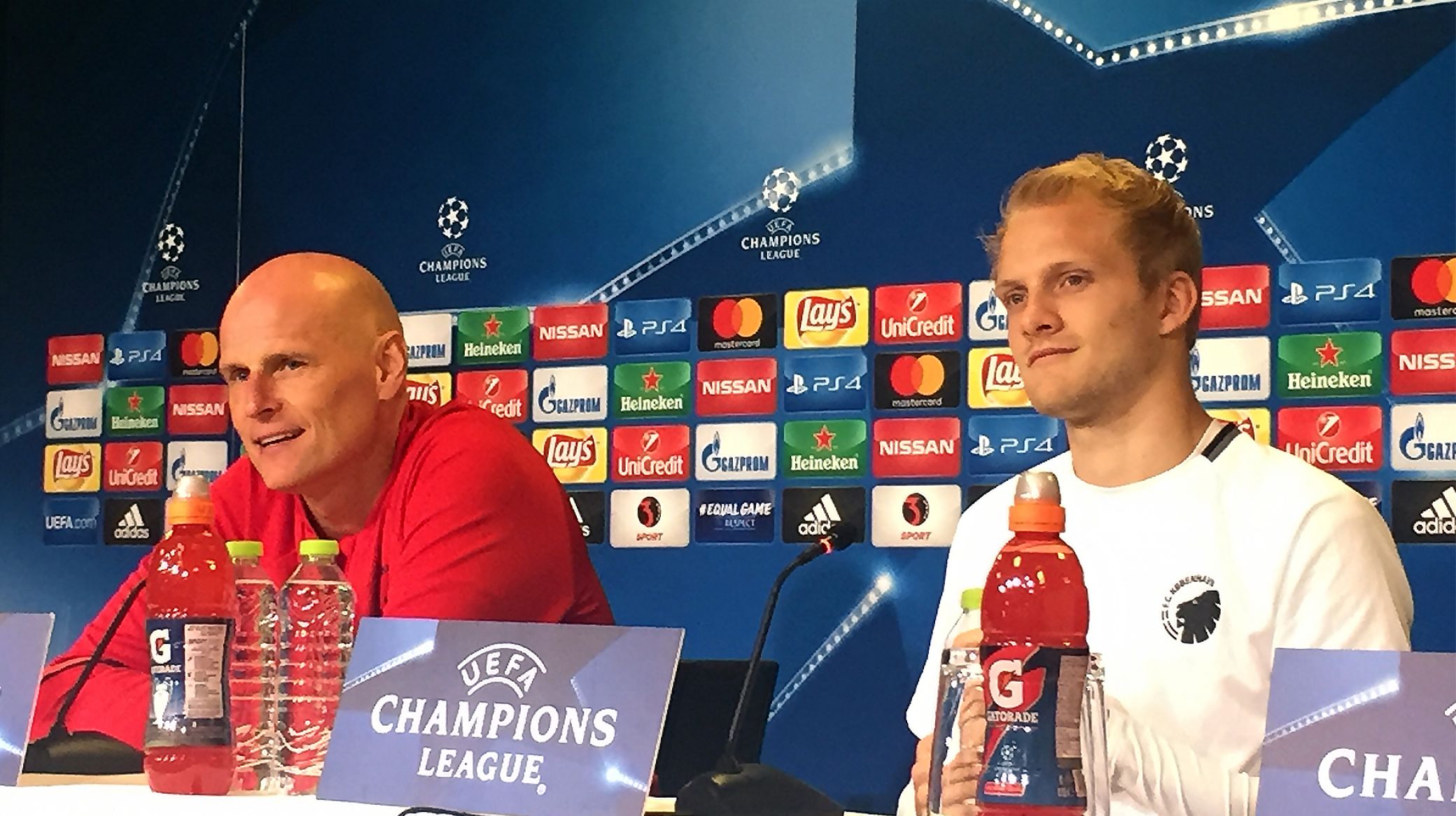 FCK.DK
Ståle: We're going all in for the Champions League
22/08 2017 17:54
F.C. Copenhagen manager Ståle Solbakken and centre-back Nicolai Boilesen spoke ahead of Wednesday's Champions League playoff second leg with Qarabag in Telia Parken.
And Ståle was quick to point out European football is where FCK belong.
"This club has history and experience of playing these European matches, so even if we have new players, it is still something we can draw on tomorrow evening," Ståle said.
"We also saw in the Vardar qualifier that when we draw on that experience it works.
"Vardar had good individuals but Qarabag is more evenly fitted out. They have many national team players and are well-matched.
"The three in the midfield have, for example, played together for two seasons, and that more or less applies to the back four. In my opinion they are favourites because they lead 1-0 heading into the second leg.
"But if we score the first goal then that tag has gone."
Ståle was asked if sporting-wise it would be better for FCK to be in the Europa League. But he is not convinced.
"It's all about making the Champions League, that's the only thing we're thinking about," he replied.
"Right now, it's probably not FCK's best Champions League team over the years, but I think we can get around 30 per cent better over the course of the next six weeks, even though we do not buy new players - which I still expect will be the case.
"In part, it's natural for a team to grow over time, and some players are still struggling physically.
"Peter Ankersen is still missing about 20 per cent, Rasmus Falk will be back soon, the new players will gel even better and generally the squad will be more teamed up in the coming weeks.
FCK defender Boilesen also spoke to the assembled media and reflected on the weekend win over SønderjyskE:
"We got an important boost with Saturday's victory. The odds are probably not 50/50, but we definitely have the opportunity (to progress)," Boilesen said.
FCK.dk also caught up with a number of the squad as they trained on the Telia Parken pitch ahead of tomorrow's 20:45 kick off.
Youssef Toutouh: "We know what it's all about, and it's important for us to get the first goal."
Michael Lüftner: "I'm ready for tomorrow! Thankfully on Saturday I only sustained a hard knock to the knee and nothing more."
Jan Gregus: "I'm an optimistic and look forward to the great support from our fans tomorrow night!"
Peter Ankersen: "I feel fine after my injury, but I'm not quite where I want to be."
Pierre Bengtsson: "We still have a lot to work on, for example, we can improve on being more clinical, but tomorrow we're ready to give 100 per cent!"