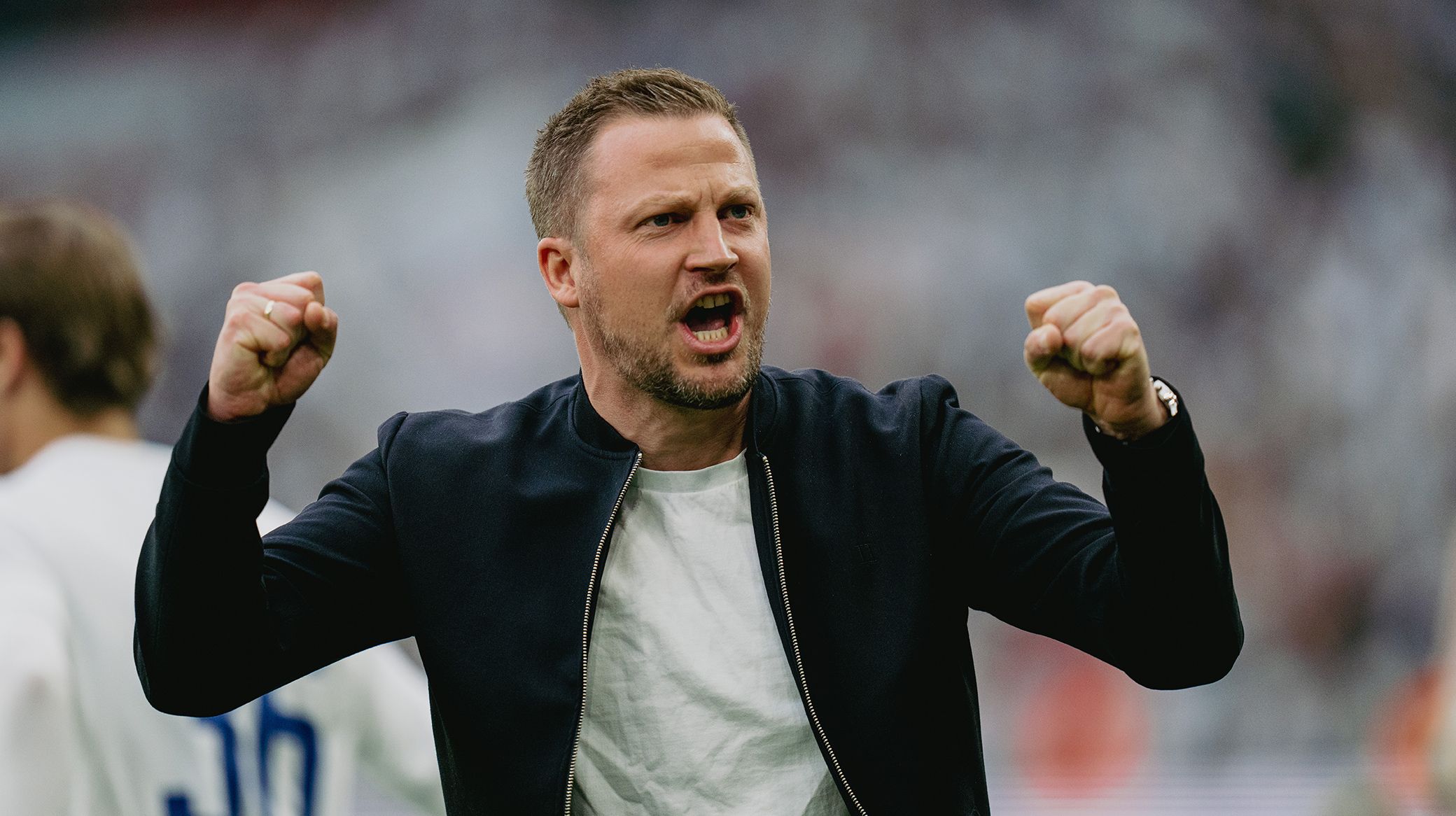 Lars Rønbøg, Getty Images
Neestrup praises FCK mentality after 4-3 win over AGF
21/05 2023 21:59
F.C. Copenhagen head coach Jacob Neestrup says the players showed their mental resilience in Sunday's 4-3 comeback win over AGF in Parken.
The Lions had let slip a 2-0 lead to fall behind in the second half, before goals from Jordan Larsson and Kevin Diks turned the tie back in their favour.
The result means FCK have a four-point gap on second-placed FC Nordsjælland at the top of the Superliga table with two games remaining. FCN play their game in hand on Monday night.
And Neestrup was delighted with the resolve his players showed.
"It was a match that was 50 percent great and 50 percent terrible!" he said after the game.
"It's been a wild week where we've really had our backs against the wall. We were already under pressure in Brøndby, where we had to win, and we managed to do that. Then we had a tough cup final, which we also won, and today we faced a very strong AGF team, who are uncomfortable to play against.
"When we went 2-0 up Jordan came close to making it 3-0, but then they responded again and were really strong from about midway through the first half to midway through the second, when they went 3-2 up. And after we fell behind, they also had chances to close out the game.
"I sat there feeling that it would be difficult to come back, and the players really had to dig deep to achieve what they did today. We have been ruled out many times this season - both in matches and in the title race as a whole - but the work effort they showed and the mentality they showed carried us through today. It just goes to show that there is always a way out.
"Tactically, we changed from 3-5-2 to 4-3-3 right after the break, but we still struggled to create chances, so we switched to 4-4-2 when Mo (Daramy) came on. I can't stand here and take credit for anything, because the players deserve it. They showed real mental strength during a difficult match against a difficult opponent.
"Perhaps it was also an advantage that AGF had to win the match, so it was a more open game than our three previous matches against them.
"But when (Kevin) Diks scored to make it 4-3 at the end, we just held our breath on the bench, because we couldn't see if there was an offside, so we crossed our fingers that the referee wouldn't suddenly have to go to the screen.
"People must have really got their money's worth, and I'm already looking forward to four more games against AGF next season. But for the time being, we have to finish the job, because I reckon we have to win our last two games to secure the title. Our biggest strength this season has been that we always have respect for our opponents, and we have that too, ahead of our away game in Viborg and the home game against Randers."