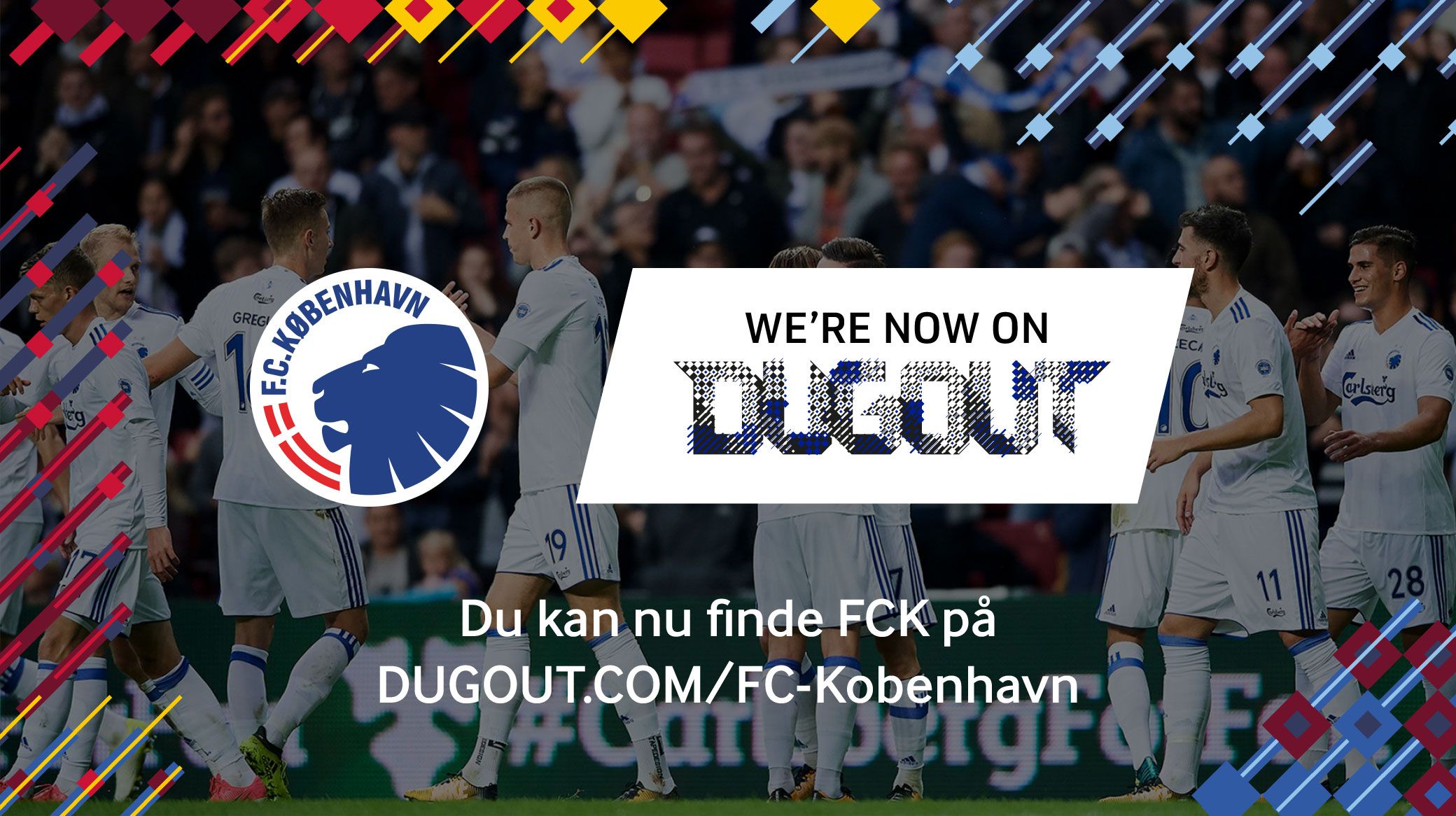 F.C. København er nu på Dugout.
FCK becomes first Nordic club to join Dugout
02/11 2017 10:00
F.C. København are proud to announce we are joining Dugout - the digital football platform, which launched last year and provides football fans with exclusive behind-the-scenes content and access, free of charge and all in one place.
The first Nordic club to join Dugout and 60th overall, FC København will now be able to engage with its fans all over the world through the platform.
Dugout marks the first time the biggest clubs in the world have joined forces to support a new business and since launching in December 2016, 63 clubs, one National Football Federation and one League have signed partnerships with the platform. This includes some of the biggest clubs in the world such as AC Milan, Arsenal FC, Atletico Madrid, Chelsea FC, FC Barcelona, FC Bayern Munich, FC Porto, Juventus, Liverpool FC, Manchester City FC, Paris Saint-Germain, and Real Madrid CF, as well as the Football Federation of Portugal and the Scottish Professional Football League.
In addition to these clubs, Dugout has also agreed partnerships with over 100 of the world's best-known footballers, past and present – including Pele, Gareth Bale, Patrice Evra, Javier Mascherano, Edison Cavani, Dele Alli and more.
Each club and player has a dedicated Dugout profile to upload content and interact with fans and Dugout users get a totally personalised experience based on the clubs and players they follow.
Jes Mortensen, Head of Press at F.C. København, said: "We are excited to join Dugout as the first Nordic Club.
"Dugout is platform of the highest quality and with some great content and we look forward to being part of that and sharing stories and content about F.C. København in a forum with the biggest clubs around the world. We hope that football fans will enjoy visiting F.C. København on Dugout and experience our club, our stadium and our fans."
Dugout Executive Chairman, Elliot Richardson, commented: "We're really excited to welcome FC København to the Dugout platform.
"We have made significant steps over the past year, signing our first National Football Federation and League, and our first Nordic club is another example of Dugout's progress.
"The game today is truly global and fans don't just want to watch matches in their own country – they want to follow their favourite clubs and players across the world. That's what Dugout offers - unrivalled access for fans to see behind the scenes of the clubs and into the lives of the players. Thanks to Dugout, fans can now access the best content from FC København, both on and off the pitch, for the first time."
Dugout works with its partners to create high-quality, original content, which includes videos from clubs exclusive to Dugout, lifestyle and personal updates from players, and original video series featuring ball skills and tricks from players that can't be seen anywhere else.
The trend of following multiple clubs – on average 4.6 clubs per person – was revealed in polling of 25 major football countries. The research also found that fans now "support" individual players, meaning that these stars help grow the global fan base of every team they play for during their career.
The Dugout app is initially available in eight languages: English, German, Italian, French, Spanish, Catalan, Portuguese and Bahasa (Indonesian), with more to be added in the coming months.