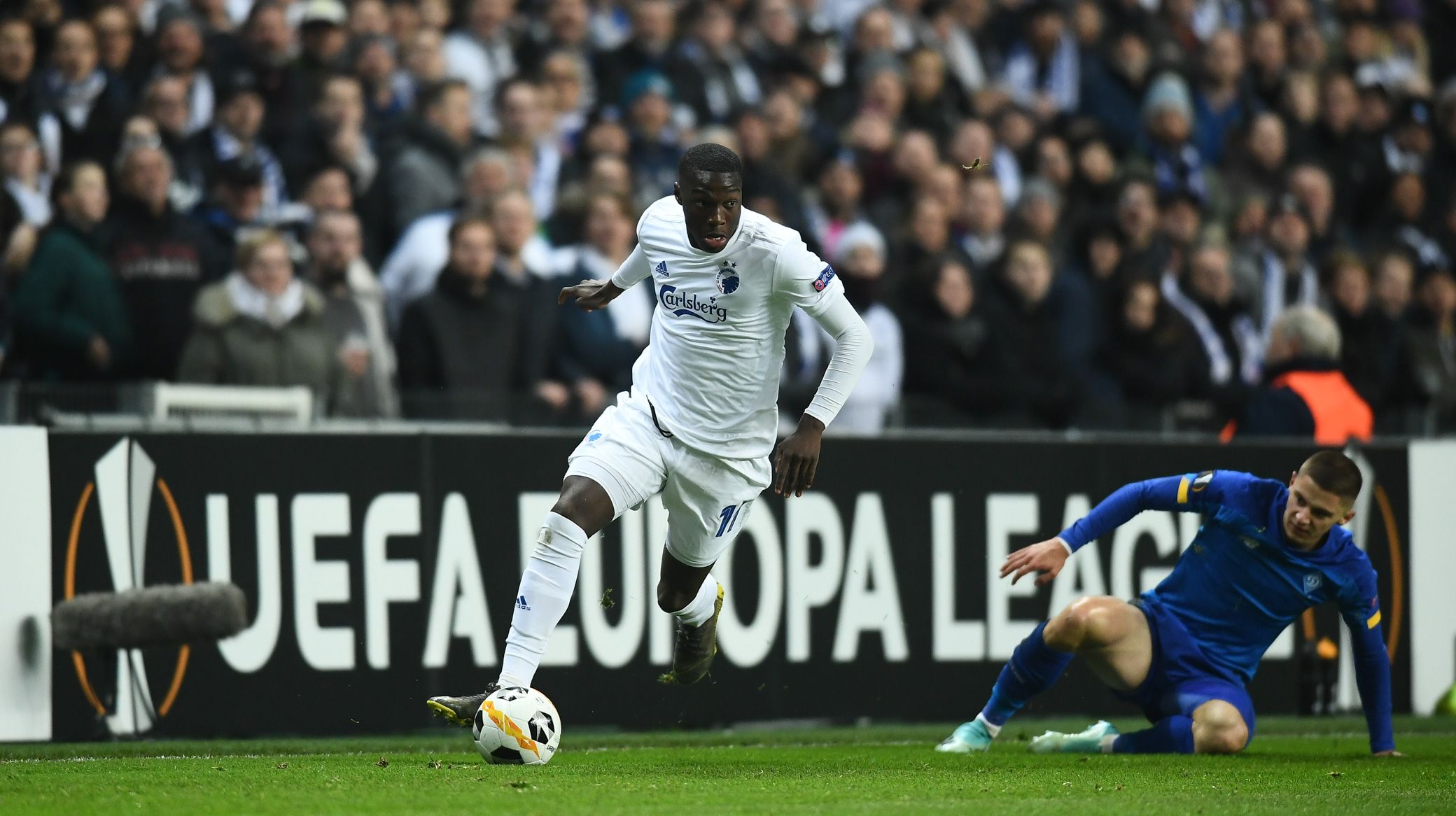 Lars Rønbøg, Getty Images
Daramy extends his contract
15/01 2020 21:30
Mohamed Daramy has extended his current contract with two years until then end of 2023.
18-year old Daramy joined F.C. Copenhagen's Talent Department from Hvidovre in 2015. He made his first team debut in a cup tie against Viby in September 2018, where he also became the club's youngest goalscorer ever with 16 years and 263 days.
He was promoted to the first team in March 2019 and has now played 32 games and scored 5 goals for FCK, and in the January 2020 he received his Danish citizenship and was pre-selected for Danish youth International football in March.
"We are very happy that we, together with Mohamed, have reached the conclusion that it is best for his development to stay in FCK, because he could easily have gone to a foreign club already," says manager Ståle Solbakken.
"He is undoubtedly a very big talent, and during this season he has progressed towards a more mature FCK-player. Beside his obvious offensive skills, he has also proven that he has the tactical and defensive discipline it takes to play for FCK."
"He had a couple of decisive actions for us in the autumn and got a lot of playing time, but of course he has still something to learn, which is natural for an 18-year old player."
"He is a good example of the strong work in our Talent Department, and it is an important part of our strategy and identity that we can bring young players all the way to the first team. Therefore, this contract is also a recognition to those who have worked with Mohamed through the years," ends Ståle.
"I am very proud and very happy about this contract! It shows that the club really believe in me, and that I have earned it on the pitch," says Mohamed Daramy.
"I am happy to be a part of the club, and I feel more and more like a player that the staff and teammates trust to be one who can play from start."
"I know that I still have a lot to learn, and I really feel this is the right place for me to develop further. Every day I am surrounded by strong players on the training ground, and I'm trying to learn from them all the time, and we have the best coaches, who helps me in the right direction."
"I also want to thank our fans, who really have supported me all the way. It means a lot for a young player to feel that they are behind you and support you, also when you are not playing so well or make a mistake."
"With this contract I can now concentrate our many important games in the spring season. We have to great games against Celtic in Europa League, and we are chasing the championship and the cup final, so it will be interesting and funny," ends Daramy.