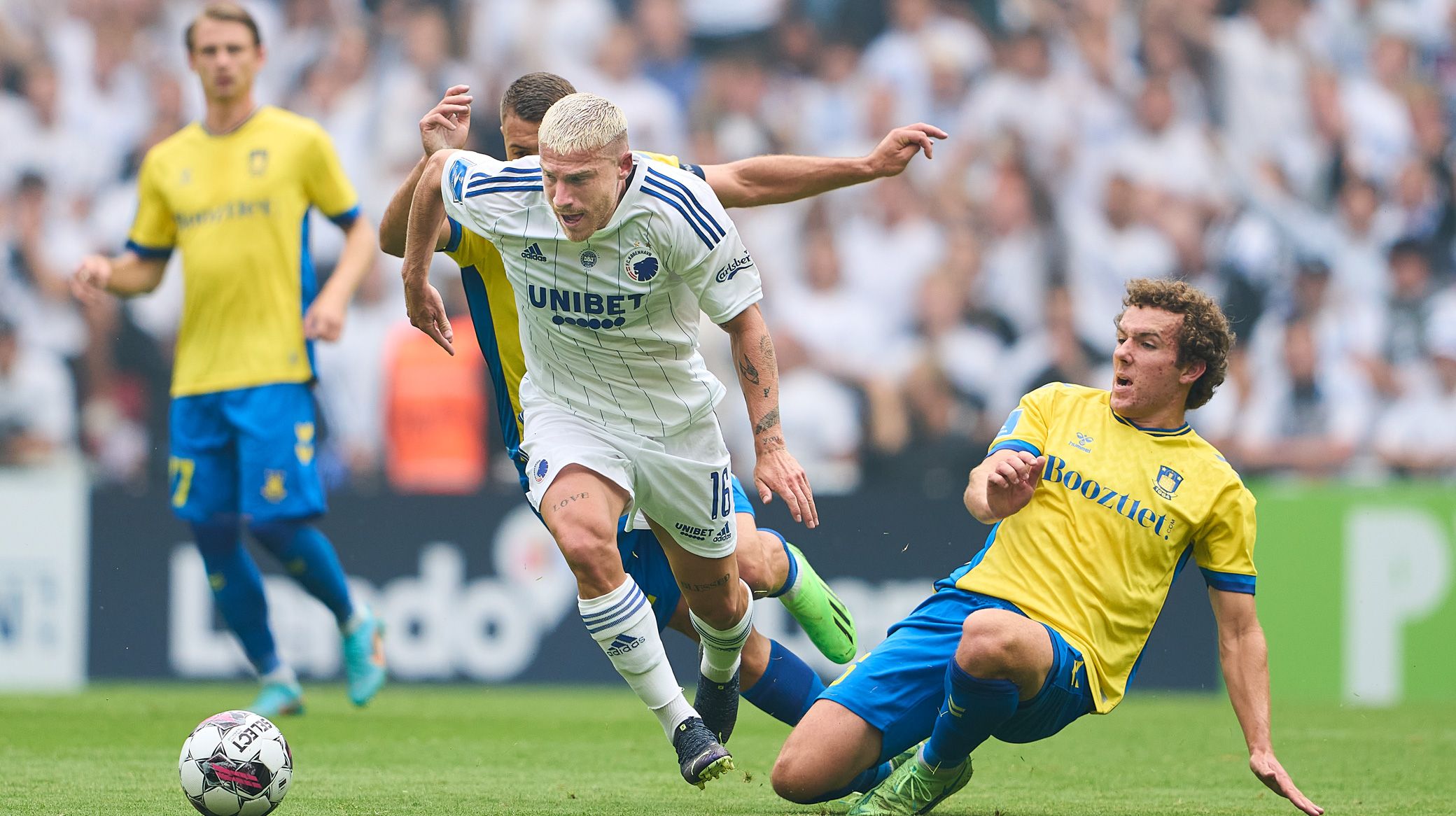 Lars Rønbøg, Getty Images
Biel joins N'Doye for most derby goals
08/08 2022 15:25
Pep Biel brought his Copenhagen derby tally to eight goals on Sunday with a hat-trick in F.C. Copenhagen's 4-1 victory over Brøndby.
In doing so, the Spaniard now joins Dame N'Doye at the top of the charts for goals scored in the derby.
"It was fantastic!" Biel said after the game. "To score a hat-trick in a derby, in Parken, in that setting… you always dream of scoring, but to do it three times and make history like that. It was absolutely incredible and I'm so happy."
Biel's derby record
Biel's hat-trick, which came after the Lions had been pegged back to 1-1 in front of a sell-out Parken, was the first scored in the Superliga between these two sides.
It was also the third derby in a row in which Biel has found the net – and the 25-year-old is now level with N'Doye on eight goals.
Remarkably, Biel has achieved the feat in just 11 games.
"I know I'm now level with Dame N'Doye and scored as many goals as him against Brøndby. That's incredible - I mean, it's N'Doye, who is one of the biggest stars of all time at FCK," said Biel.
>> Pep Biel hat-trick in the derby
"It's really big for me. I actually didn't know that I've become the first to score a hat-trick in a derby in Denmark! That only makes it even better."
Biel on playing up front
The Spaniard has started a number of games leading the line this season. And he says he's enjoying playing up front.
"Mine were some real 'forward's' goals today and I enjoy playing up front in that position, and getting those kinds of chances close to the goal," said Biel.
"I followed up well on two saves from their keeper and I managed to get a flat ball in from Denis into the net as well. I'm just trying to do my best as a striker.
"My best derby goal is probably still the one at Brøndby Stadium, which I scored in the spring, where I followed the ball all the way into the corner of the goal."
Attention turns to Friday
Next up for FCK is a clash with Randers on Friday evening in Parken. And Biel is already looking forward to the fixture.
"We have to continue the momentum we set here, where we had a good flow in the game and created a lot of chances," said Biel.
"Of course it gives confidence. We know what is expected of us and what we are able to do, so we're looking forward to getting in front of our fans again as early as Friday."
The match against Randers kicks off at 9pm and there is plenty of entertainment scheduled, as the club celebrate our 30th anniversary.